Spiced pear tarte tatin with soured ice cream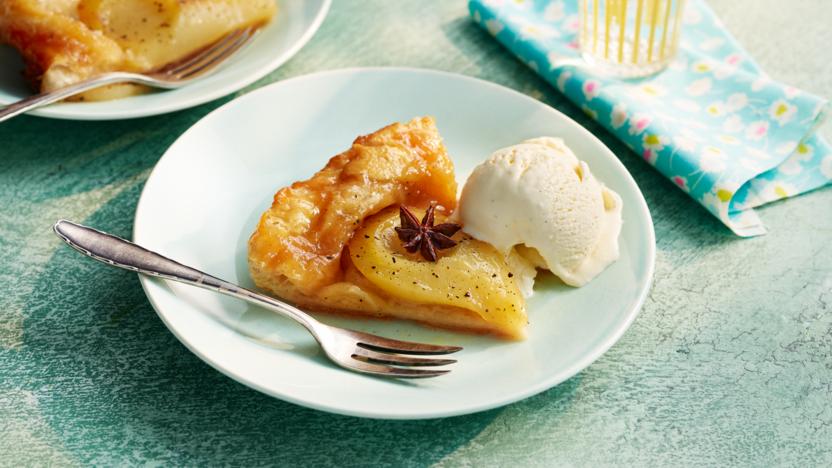 This traditional pudding is given a spicy twist and served with soured vanilla ice cream.

Ingredients
For the tarte tatin
For the ice cream
Method
To make the ice cream, beat the egg yolks and sugar together in a bowl until pale. Heat the milk and vanilla pod in a saucepan over a low heat until nearly boiling. Pour the egg yolk mixture into the milk and cook, stirring all the time, for 8–10 minutes, or until the mixture has thickened, taking care that it does not boil or curdle. Stir in the double cream and crème fraîche. Remove the vanilla pod, then pour the mixture into an ice-cream maker and churn until frozen.

Preheat the oven to 200C/180C Fan/Gas 6.

To make the tarte tatin, press the butter onto the base of a high-sided 20cm-diameter heavy-based ovenproof frying pan with the back of a wooden spoon until it completely covers the base. Sprinkle over the sugar evenly. Add the star anise and sprinkle over the vanilla seeds, ground cloves and black pepper. Lay the pears on top, cut side-up.

Roll out the pastry on a floured surface until it has a diameter 2.5cm/1 inch larger than the pan. Lay it over the pears and tuck it down the sides of the pan. Push a few holes into the pastry to let the steam escape.

Place the pan over a medium heat for 6–8 minutes, or until the juices are lightly golden, shaking the pan every couple of minutes to stop the pears from burning. Transfer to the oven and bake for 20–25 minutes, or until the pastry is golden.

Allow the tarte tatin to cool a little. Loosen the edges and place a large serving plate on top of the frying pan. Carefully but quickly turn the pan over using a dry, folded tea towel to hold it, and allow the tarte tatin to drop gently onto the serving plate. Serve immediately with the ice cream.
Related Recipes
See more tarte tatin recipes (21)
See more pear recipes (127)