Spiced lentils and aubergine toast
If you like to think outside the box with toast toppings, and you're a fan of the naturally smoky flavours of roasted aubergine, you are likely to love this recipe.



Ingredients
For the aubergine toast
For the spiced lentils
Method
To make the aubergine toast, preheat the oven to 200C/180C Fan/Gas 6. Brush the aubergine with oil and stud with the garlic, lemongrass and ginger. Wrap in foil and cook for one hour.

To make the spiced lentils, heat the oil in a saucepan. Add the onion and fry until nearly softened, add the celery and fry a little more. Add the French beans, lime leaves, chillies and curry paste. Once the vegetables are soft, add the lentils and vegetable stock. Simmer until the lentils are cooked.

Meanwhile, to continue the aubergine toast, remove the aubergine from the oven and cool slightly. Remove the aubergine from the foil, scrape out the flesh, discarding the skin and chop the flesh well. If you have time, leave to dry slightly.

To finish the spiced lentils, heat another dash of oil in a frying pan and fry the aubergines. Add the fried aubergines to the spiced lentils with the spring onions and herbs. Taste and season with salt and freshly ground black pepper. Keep warm.

To finish the aubergine toast, spread the puréed aubergine on the bread. Sprinkle the sesame seeds on a clean surface and press the aubergine-side of the covered bread into the sesame seeds. Heat a little oil in a frying pan and fry the bread aubergine-side down until golden-brown. Flip over and cook until golden-brown. Cut into fingers and serve with the spiced lentils on the side.
This recipe is from...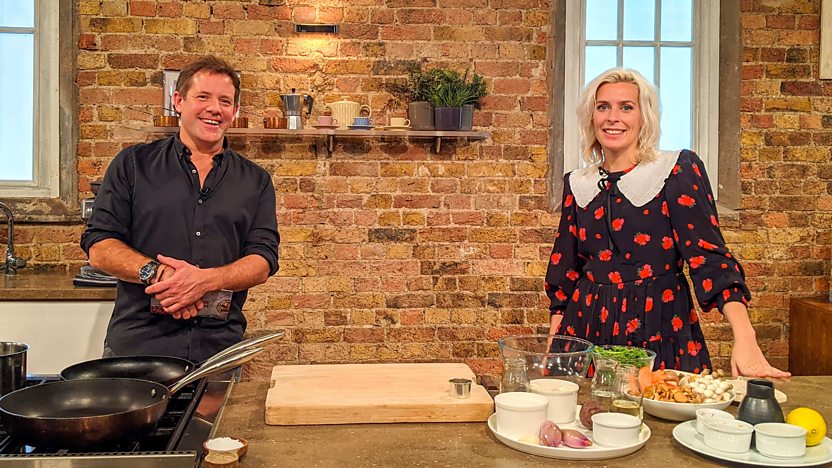 Saturday Kitchen
24/10/2020