Spiced blackberry, pear and apple pavlova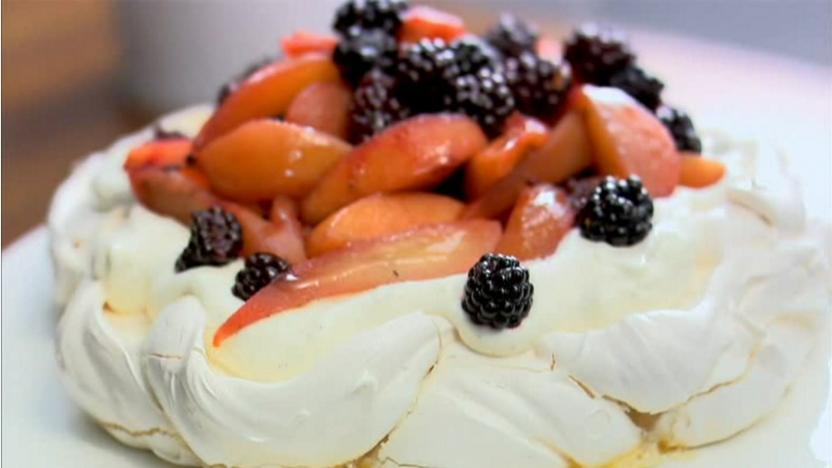 An autumnal take on the classic Australian pavlova, best served with a glass of good red wine. Quince is a difficult fruit to get hold of, but if you can find it, it makes a sublime addition.

Ingredients
For the meringue
For the fruit filling
For the cream filling
Method
For the meringue, preheat the oven to 140C/275F/Gas 1. Line a large baking tray with greaseproof paper.

Put the sugar and lemon juice into a large bowl. Add one egg white and whisk for a minute (the mixture will look hard, but don't worry). Add another egg white and whisk for a few minutes, then add the remaining egg whites and whisk for 4–5 minutes or until the meringue is stiff and shiny.

Dollop the mixture in a 20cm/8in circle on the baking paper, making the sides slightly higher than the centre. Bake in the bottom of the oven for 1–1½ hours, or until the meringue is firm and crisp on the outside but still soft and 'pillowy' inside. If you can, wedge the oven door open a tiny bit with a damp tea towel; this allows the moisture to escape and dries out your meringue more quickly. You don't want too much colour – it may begin to turn a very, very pale beige, but that is it. Once cooked, turn off the oven and leave the meringue inside until completely cool.

Meanwhile, put all the fruit filling ingredients, except the blackberries, in a medium saucepan set over a medium heat. You can throw the vanilla seeds and the pod into the mixture (or vanilla extract if using). Heat the liquid until just boiling, then reduce the heat to a poach. (A poach is when there is only one or two bubbles breaking the surface of the liquid.) Cook for about 15 minutes, or until the fruit is soft, but still has a bit of bite. Add the blackberries and remove the pan from the heat, leaving the fruit to cool in the liquid.

To make the cream filling, whip the cream, sugar and vanilla seeds in a large bowl. The cream is whipped enough when it just starts to hold its shape in the bowl and does not run when the bowl is tipped. It is best to be very slightly under whipped, as the cream will thicken when left to stand.

Drain the fruit through a sieve or colander (you can reserve the liquid if you like and warm it to drink as a hot toddy).

To assemble the pavlova, place the meringue onto a serving plate. Dollop the cream mixture all over it, leaving a 4cm/1½in border all the way around. Pile the drained fruit on top of the cream and serve.
Recipe Tips
Try using raspberries instead of blackberries in this recipe.
This recipe is from...
Recipes from this episode