Spiced biscotti with an orange syllabub dip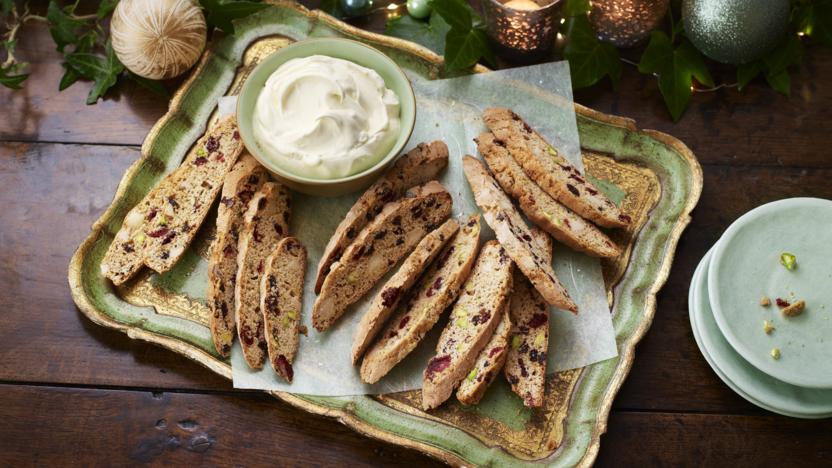 Bling up your biscotti with your choice of festive nuts and fruits. Serve with a zesty syllabub dip.
Ingredients
For the biscotti
For the syllabub dip
Method
Preheat the oven to 180C/160C Fan/Gas 4. Line 2 baking trays with greaseproof paper or silicone mats.

Put the flour, baking powder, mixed spice and sugar in a bowl and mix. Now add the orange zest, currants, cranberries, macadamias and pistachios and give it a quick mix. Add the beaten egg and bring the dough together by hand.

Turn the dough out onto a floured surface and divide into 4 pieces. Roll out to about 30cm/12in long and place 2 on each tray (make sure they are spaced apart).

Bake for 25-30 minutes until the dough has risen and is firm, but it should still look very pale.

Remove from the oven and leave it on the tray. Reduce the oven temperature to 140C/120C Fan/Gas 1.

Using a bread knife cut 1cm/½in-wide slices diagonally into the dough. Put the slices on a large baking tray and bake for a further 15 minutes until dry and golden-brown. Leave to cool on a wire rack.

For the syllabub dip, whisk the sugar and cream until soft peaks form when the whisk is removed. Add the orange zest and juice and mix through. Add the milk and mix until it has a dip consistency.

Serve the syllabub in a dipping bowl alongside the biscotti.
This recipe is from...
Recipes from this episode