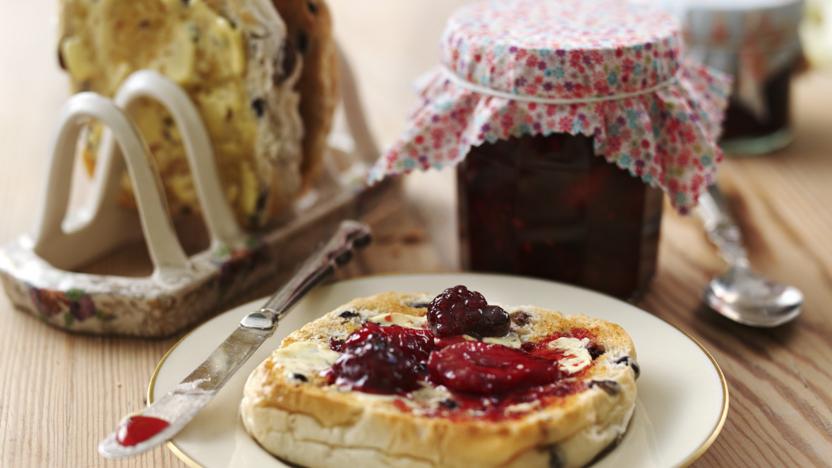 Capture the best of summer's fruit with this quick jam recipe. Try it with any combination of strawberry, raspberry, blueberry and blackberry.
Ingredients
750g/1½lb mixed berries including strawberries, raspberries, blueberries or blackberries
100ml/3½fl oz water
400g/14oz jam sugar
Method
Wash and remove any stalks from the fruits. Place in a pan with water and bring to the boil. Leave to simmer for 10-15 minutes, stirring frequently. Add the sugar, stir until it has dissolved and boil for a further 15-20 minutes.

Transfer to any sterilised airtight jars (a couple of clip jars are perfect) to cool. Once cooled, cover and chill in the fridge where it will thicken and become more jam-like. It will keep for up to 2 months.

Spread the jam over hot, buttered toasted teacakes, crumpets, scones or a jam sandwich.

The jam adds a fruity tang stirred into natural yogurt, or you can gently heat it and serve with ice cream or on pancakes with thick cream.
Recipe Tips
Prepare the jam jars by washing in hot soapy water and leaving to dry in the oven at 130C/250F/Gas ½ for 10-15 minutes. Stand the lids in a pan of boiling water for 10 minutes. Drain and allow to cool before handling. Fill the jars while still warm.
Try adding the scraped seeds of a vanilla pod to the pan with the sugar for a delicious vanilla flavour.