Spatchcocked spiced chicken with Bengali-spiced squash
Preparation time
less than 30 mins
Cooking time
30 mins to 1 hour
Fancy a Bengali-inspired roast dinner? This one's perfect and can be ready in an hour.
Preparation time
less than 30 mins
Cooking time
30 mins to 1 hour
Ingredients
For the spice rub
1 lemon, zest only
½ tsp chilli powder
1 tsp smoked paprika
2 garlic cloves, crushed
4cm/1½in piece fresh root ginger, peeled and grated
2 tbsp olive oil
1.5kg/3lb 5oz free-range chicken
4 tbsp olive oil
1 large onion, thinly sliced
2 garlic cloves, finely chopped
1 red chilli, finely chopped
2cm/¾in piece fresh root ginger, peeled and cut into matchsticks
1 tsp ground cumin
1 tsp paprika
8 cardamom pods, cracked
1 tsp garam masala
1 lemon, juice only
1 butternut squash, deseeded, cut into thin wedges
For the crispy chicken skin (optional)
Method
Preheat the oven to 160C/140C/Gas 3.

To make the spice rub, mix together all the ingredients in a small bowl.

To sptachcock the chicken, use sharp kitchen scissors to cut along each side of the breast bone, cutting through the ribs. Remove the breast bone and flatten the chicken down with the heel of your hand onto a clean surface. Rub with the spice rub, reserving a little for the crispy chicken skin (if using).

Put the chicken skin-side up in a large roasting tin and squeeze over the lemon juice.

Heat the oil in a frying pan over a medium heat and gently fry the onion, garlic, chilli and ginger until soft. Add the spices and cook for 1–2 minutes.

Arrange the squash around the chicken, cover the squash with the spice mixture and toss gently.

Cook the chicken and squash for 50 minutes, basting the chicken at 10 minute intervals, until the chicken is cooked through and there are no traces of pink, and the squash is soft and sticky.

To make the crispy chicken skin, line a baking tray with baking paper. Pat the chicken skins dry, place on the tray and drizzle with a little oil, sprinkle over the white pepper and a teaspoon of the spice rub. Place another baking tray on top of the chicken skins and place in the oven for 25 minutes or until crispy.

Serve the chicken with the squash wedges and the crispy chicken skin (if using).
Related Recipes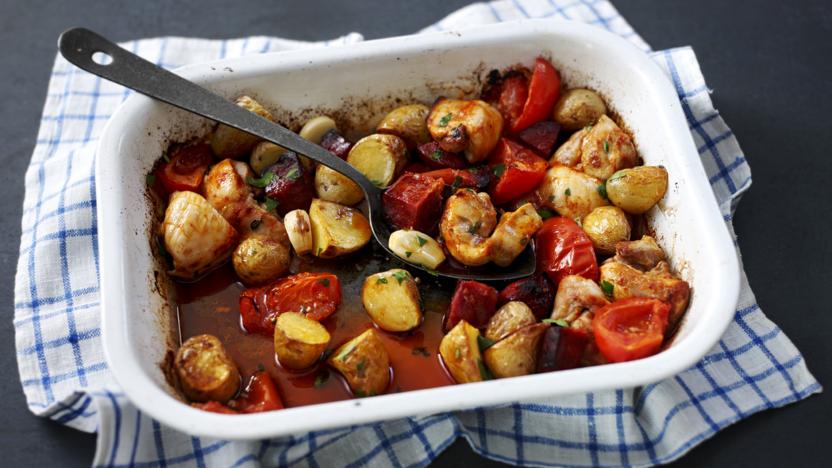 See more roast chicken recipes (59)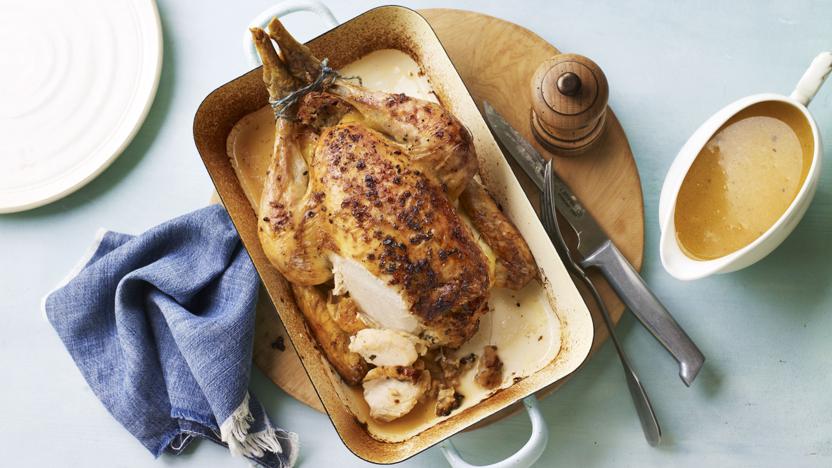 See more chicken recipes (266)