Spaghetti with clams and chilli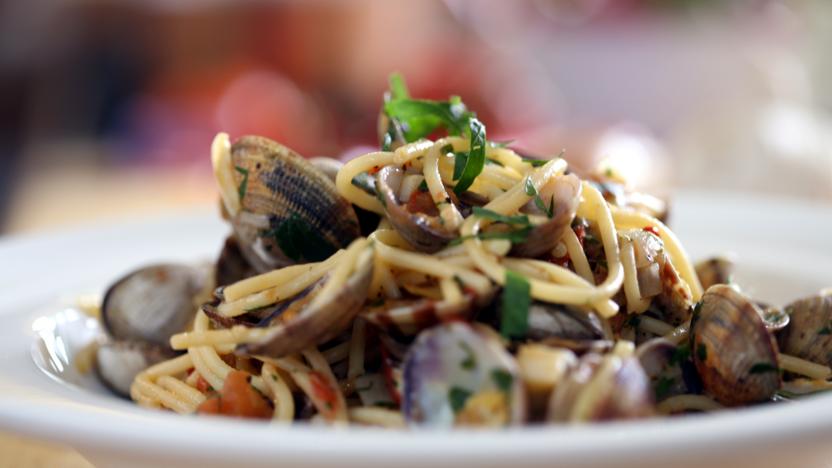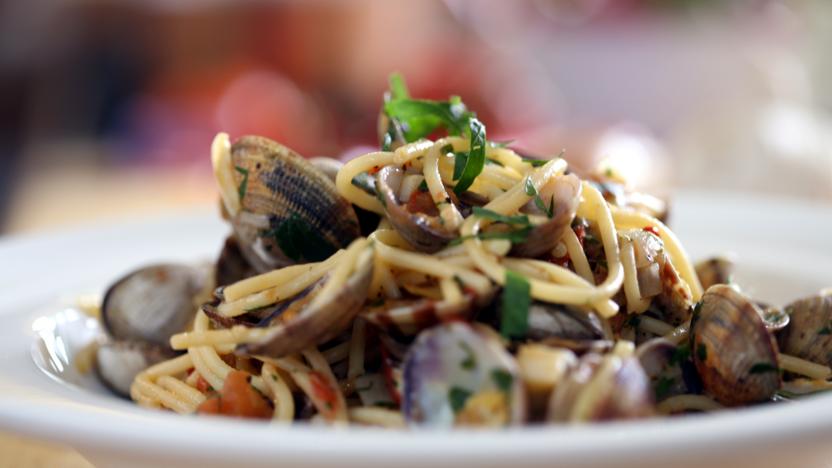 This traditional Italian seafood pasta dish of clams with chilli, garlic and white wine is great for a date night recipe.
Method
Rinse the clams well and scrub if necessary in cold water. Discard any with cracked or damaged shells and those that don't close when tapped on the edge of the sink. Place the rest in a large bowl. Cover with lots of cold water and leave to stand for 20 minutes to give the clams a chance to dislodge any sand that might be present inside the shells. (Don't leave for any longer than 20 minutes or the clams will die and become unusable.)

Half-fill your largest saucepan or flame-proof casserole with cold water, add the salt and bring to the boil. Score a cross through the skin in the base of the tomato and lower gently into the bubbling water. Leave for 30 seconds and then remove with a slotted spoon or tongs, place on a chopping board and leave until cool enough to handle.

Return the water to the boil and gradually add the spaghetti, pushing down and separating the strands as it enters the water. Stir well as it begins to soften and return to the boil. Cook for 10 minutes, or according to the packet instructions, until just tender (al dente).

While the spaghetti is boiling, remove the clams from the bowl they have been soaking in with a slotted spoon – so that any sand is left at the bottom of the bowl – rinse in a colander and transfer to a clean bowl.

Heat the oil in a large non-stick, lidded sauté pan or wide-based saucepan. Very gently fry the garlic, shallot and chilli for 5 minutes, or until well softened, stirring regularly. Slip the skin off the tomato and discard. Cut the tomato into quarters, throw away the seeds, and cut the tomato flesh into 1cm/½in dice.

Increase the heat under the pan to high, add the tomatoes and cook for a minute, stirring. Pour in the wine and bring to a simmer. Add the clams and stir well. Cover with a tight-fitting lid and cook for 1 minute. Carefully give the pan a good shake, holding the lid firmly in place, and cook for 2 minutes more.

Remove the lid, stir the clams with a wooden spoon and cook for a further 30–60 seconds, or until the clams have all opened. Remove the pan from the heat, pick through the clams and discard any that haven't opened. Season the clam mixture well with salt and freshly ground black pepper.

Drain the pasta in a large colander and return to the saucepan. Tip all the clam mixture into the saucepan, scatter over the chopped parsley, season with ground black pepper and toss well together (Tongs or a large spoon and fork work well for tossing.) Check the seasoning and serve.
This recipe is from...
Recipes from this episode