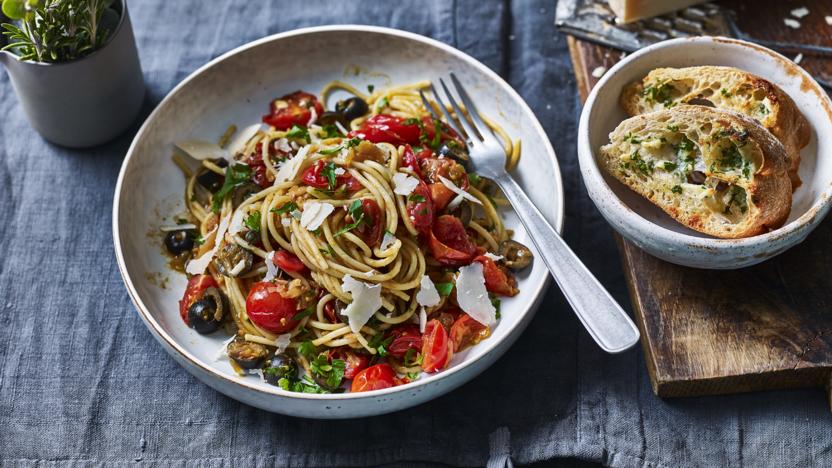 Punchy, pungent flavours of anchovies, chilli flakes, capers and olives make this pasta a heady classic – add the optional garlic ciabatta for a bit on the side.

Each serving provides 615 kcal, 19g protein, 87g carbohydrates (of which 8g sugars), 19g fat (of which 5.5g saturates), 8.5g fibre and 1.4g salt.
Ingredients
For the garlic ciabatta (optional)
For the spaghetti puttanesca
To serve
Method
If serving garlic ciabatta, prepare it first. Preheat the oven to 200C/180C Fan/Gas 6 and line a baking tray with baking parchment. In a small bowl, mix the butter, garlic, parsley and Parmesan together and add some salt and pepper. Lay the ciabatta slices on the baking tray and spread liberally with the garlic butter. Place on the top shelf of the oven for 12–14 minutes, or until golden brown.

For the spaghetti puttanesca, heat the extra virgin oil in a large frying pan over a medium heat. Add the onion and cook for 5–8 minutes, until softened. Add the garlic, chilli flakes and anchovies to the onion and cook for 2–3 minutes. Add the capers, olives and halved tomatoes and cook for 8 minutes, or until the tomatoes start to soften and break down slightly.

While the sauce is cooking, bring a large pan of salted water to the boil. Add the spaghetti and cook for 2 minutes less than the suggested time on the packet, stirring a few times. While the pasta is cooking, add a small ladleful of pasta water to the tomato sauce.

Drain the spaghetti as soon as it is ready, keeping back a little of the water, and add it to the sauce with the quartered tomatoes and another splash of pasta water.

Cook for 3–4 minutes, then stir in the parsley. Season with pepper, and salt if needed (the anchovies will be salty). Serve the pasta in warmed bowls, with Parmesan, and the garlic ciabatta, if serving.
This recipe is from...
Recipes from this episode