Budget spaghetti carbonara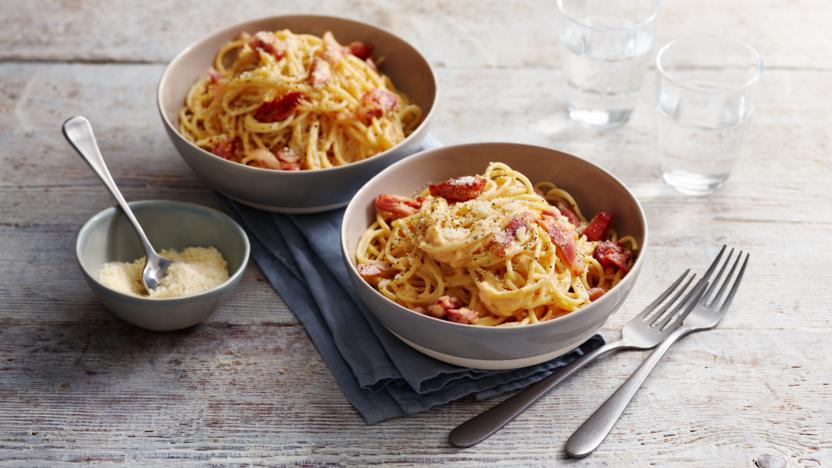 Spaghetti carbonara is a crowd-pleaser if ever there was one – eggs, cheese, bacon and pasta. And ready in the time it takes to boil spaghetti. This is designed to be a low cost recipe.
Method
In a large saucepan of salted boiling water, cook the spaghetti according to the packet instructions.

Meanwhile, heat a large frying pan over a medium heat. Add the oil and, once hot, add the bacon and fry for 2–3 minutes, or until cooked through but not colouring. Add the garlic and cook for a further minute and then remove the pan from the heat.

In a bowl, mix together the egg yolks, three-quarters of the Parmesan (or pecorino) and the milk. Season with a pinch of salt and a decent amount of pepper. Mix well.

Once the spaghetti is cooked, drain it, reserving a teacup of the cooking water. Pour the drained spaghetti into the frying pan (still off the heat) with the bacon and garlic. Immediately pour over the egg mixture and mix really well, tossing the pasta so that it is all coated in the egg. If it looks to be getting too thick or sticky then loosen with a little of the pasta cooking water.

Serve immediately sprinkled with the remaining cheese.
Recipe Tips
In March 2022 this recipe was costed at an average of £3.81 when checking prices at four UK supermarkets.
This recipe is designed to be made in conjunction with a low-cost store-cupboard, for more details click here to see how our budget recipes were costed.