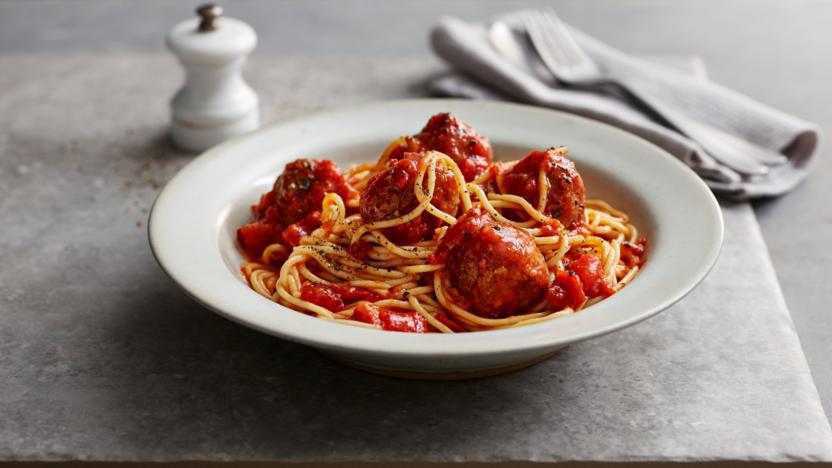 A simple tomato sauce with lots of flavour is perfect for spaghetti and meatballs. A weeknight classic. This is designed to be a low cost recipe.
Ingredients
For the sauce
For the meatballs
Method
Heat a large saucepan over a medium heat and add the olive oil. Once hot, add the onion and cook gently without browning for 4–5 minutes, or until softened and translucent. Add the garlic, continue to cook for 2 minutes until aromatic, then add the dried herbs, tomatoes and stock. Bring the sauce to a simmer, reduce the heat and simmer gently while you make the meatballs.

For the meatballs, mix together the beef, garlic and herbs along with a decent pinch of salt and pepper. Using wet hands roll into 20 balls.

Heat a frying pan over a medium heat and add the olive oil. Once hot, fry the meatballs on all sides until nicely coloured, being careful not to burn them. You may need to do this in batches. Transfer to the saucepan containing the sauce.

Continue to simmer the sauce for 10 minutes while you cook the spaghetti.

Bring a large saucepan water to the boil, add a pinch of salt and cook the spaghetti according to the packet instructions. Once cooked, drain and tip into the saucepan with the meatball sauce. Mix well and serve hot.
Recipe Tips
Make a big batch of the meatballs or meatballs in the sauce to freeze for super quick dinners in the future.
In March 2022 this recipe was costed at an average of £3.32 when checking prices at four UK supermarkets. This recipe is designed to be made in conjunction with a low-cost store-cupboard, for more details click here to see how our budget recipes were costed.