Authenic southern-fried chicken
Preparation time
overnight
Cooking time
10 to 30 mins
This Southern-fried chicken requires 48 hours advance prep but is definitely worth the effort. Pair with spicy coleslaw and cornbread for a real taste of the deep south.
Preparation time
overnight
Cooking time
10 to 30 mins
Ingredients
For the chicken
For the spicy coleslaw
For the cornbread
For the flour dredge
Method
For the chicken, dissolve the salt in 1 litre/1¾ pints water. Submerge the chicken in the brine and chill in the fridge for 24 hours.

Remove the chicken from the brine. In a new container, cover the chicken completely with the buttermilk. Chill in the fridge for another 24-48 hours.

For the coleslaw, put the pineapple and cider vinegar in a blender. Blend until smooth, then strain.

Combine all the remaining coleslaw ingredients. Use your hands to massage the salt into the vegetables to break them down slightly. Add the cider mixture and massage a little more. Cover and allow to marinate in the fridge for 24 hours. Taste and season with salt if necessary before serving.

When you are ready to cook, preheat the oven to 220C/200C Fan/Gas 7.

For the cornbread, mix all the dry ingredients in a large bowl. Then mix all of the wet ingredients in a separate bowl or jug. Combine the two and mix until smooth.

Melt the lard in a cast-iron skillet or ovenproof frying pan (alternatively melt the lard in a pan and use it to grease a 20cm/8in cake tin). Add the cornbread batter and bake for 15 minutes, or until a skewer inserted into the centre comes out clean. Spread with butter and honey, to taste.

For the chicken, fill a deep-fat fryer or a large, deep, heavy-bottomed pan two-thirds full with vegetable oil. Heat the oil to 165C. (CAUTION: Hot oil can be dangerous. Do not leave unattended)

Put all the ingredients for the flour dredge in a large plastic food bag and mix. Remove the chicken from the buttermilk, put it in the bag with the flour and shake to coat.

Deep-fry the chicken until golden-brown and cooked through. Place on kitchen roll to drain.

Serve the chicken and coleslaw on plates with the cornbread on the side.
Related Recipes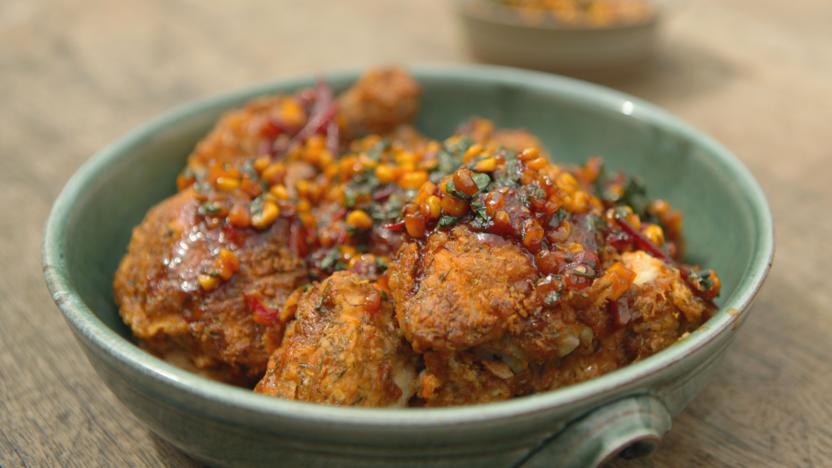 See more fried chicken recipes (24)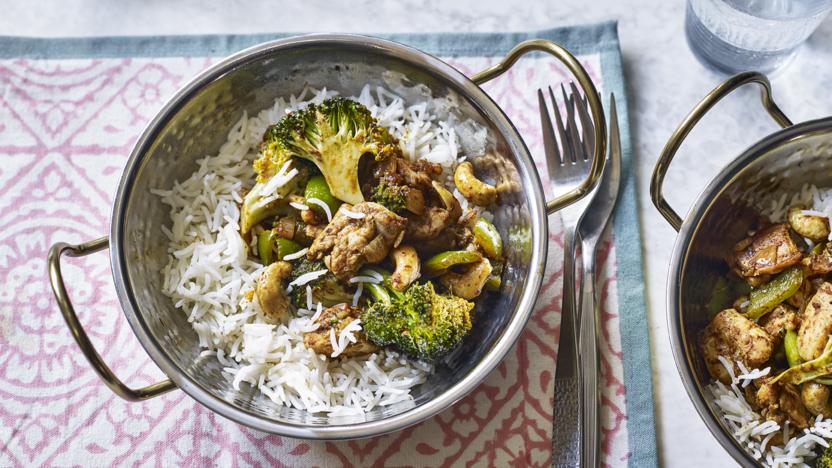 See more chicken thigh recipes (159)
This recipe is from...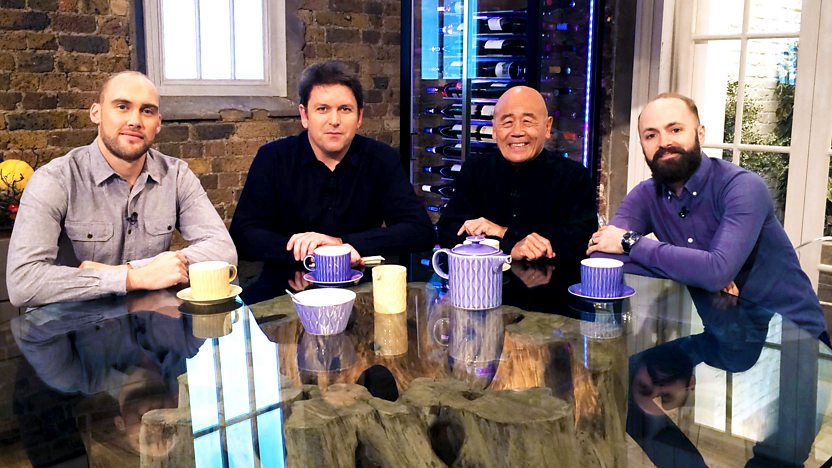 Saturday Kitchen
22/11/2014