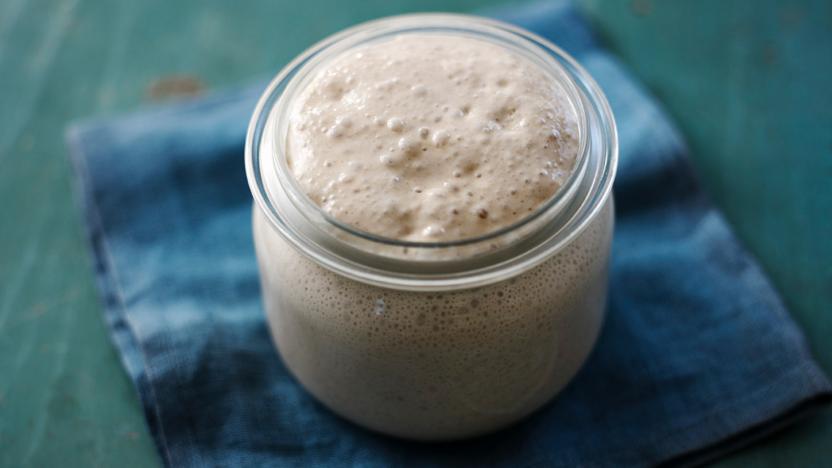 Giving life to your very own sourdough starter. The use of natural yoghurt helps to give your starter a helping hand by introducing a little friendly bacteria.
Ingredients
Day 1
Day 2
Day 4
Day 5
Method
On day one, heat the milk in a saucepan over a gentle heat. Place the yoghurt into a bowl and stir in the warmed milk. Cover and leave in a warm place for 12-24 hours until thickened. Stir in any liquids that may have separated.

On day two, stir the flour into the yoghurt, incorporating evenly. Cover and leave at room temperature (about 20C) for two days. The mixture should be full of bubbles and smell pleasantly sour.

On day four, add the flour to the starter with the water and the milk. Cover and leave at warm room temperature for 12-24 hours.

On day five the starter should be quite active now and be full of little bubbles. Remove half of the starter and discard. Add the flour and the water to the remaining starter and mix thoroughly. Cover and leave at warm room temperature for 24 hours.

On day six the starter should be ready to use. You can keep the starter at room temperature, but you will need to feed it daily. Combine equal parts of the starter, water and flour and mix thoroughly. You may have to discard some of the starter so that you do not end up with too much. Keep covered and use as needed.

If baking less often keep the starter covered in the fridge, feeding it once every five days or so by mixing equal parts of starter, flour and water. You can freeze some of your starter too, as a back-up in case you need to start again.
Related Recipes
See more How to make bread recipes (12)
See more sourdough bread recipes (4)