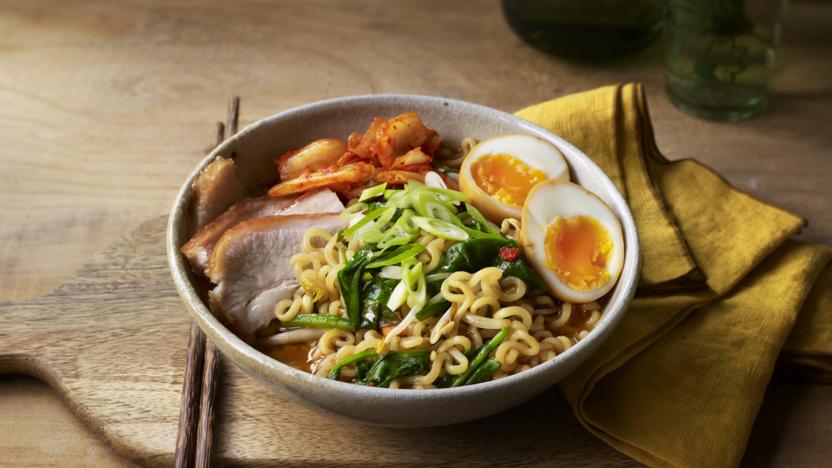 Turn a pack of instant noodles into something glorious with a few simple additions - a marinated egg, roast meat, greens and a little mirin if you have it.
Ingredients
1 medium free-range egg at room temperature
2 tbsp soy sauce (optional)
1 tbsp mirin (optional)
small handful fresh greens, such as spinach or chopped cabbage, and/or bean sprouts
1 pack instant ramen
½ tsp flavourful fat, such as lard, bacon fat, sesame oil, chilli oil, butter or chicken fat (optional)
1 tbsp pickled vegetables, such as bamboo shoots, beni shōga (ginger), mustard greens or kimchi
slices of roasted pork, ham or chicken (optional)
1 spring onion, finely chopped
Method
Bring a saucepan of water to a rolling boil, carefully lower in the egg and cook for 6½ minutes.

Remove the egg and transfer to a bowl of cold water. Leave to cool completely (change the water once or twice if it starts to warm up). Peel the egg and, if you have time, marinade it in the soy sauce and mirin for an hour (optional).

Blanch the greens in boiling water until hot through and just tender. Prepare the instant ramen according to the pack instructions. Halve the egg.

Garnish the ramen with the fat (if using), egg, greens, pickles, meat and spring onion.