Slow cooker chicken casserole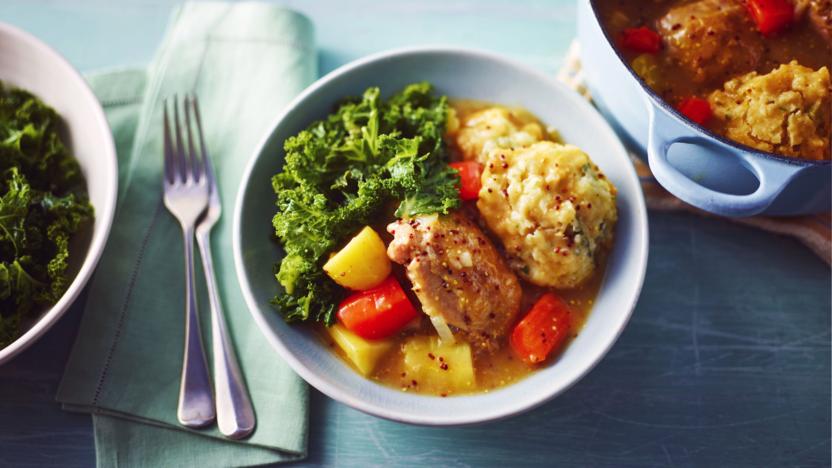 Adding dumplings to this simple, slow-cooker chicken casserole makes it great value when feeding the family.

Equipment and preparartion: For this recipe you will need a 6.5 litre/11½ pints electric slow-cooker. Each serving provides 1034 kcal, 53g protein, 98g carbohydrates (of which 16g sugars), 41g fat (of which 17g saturates), 12.5g fibre and 2.3g salt.
Ingredients
For the casserole
For the dumplings
Method
Season the chicken thighs all over with a little salt and pepper. Heat the oil in a large, heavy-based, non-stick frying pan over a medium heat. Add the chicken thighs skin-side down and fry for 6-8 minutes, or until deep golden-brown.

Turn the chicken over and fry for 2-3 minutes. Transfer the chicken to a plate and set aside.

Put the vegetables in the slow-cooker. Sprinkle over the flour and stir to coat. Add the chicken and pour over the stock and cider. Stir in the mustard. Cover and cook on high for 4½ hours.

When the casserole has been cooking for about 4 hours, make the dumplings. Mix together the flour, suet and sage in a large mixing bowl. Season with salt and pepper.

Make a well and gradually pour in 125ml/4fl oz cold water in a thin stream, slowly bringing the dry ingredients into the pool of water and stirring using a wooden spoon until the mixture comes together as a soft, squidgy dough.

Turn the dough out onto a lightly floured work surface and divide it into 12 pieces. Roll the pieces into balls.

Remove the lid from the slow-cooker and skim off any fat that has risen to the surface. Arrange the dumplings on top of the casserole and cover. Cook for 30 minutes, or until the dumplings puff up.

Spoon the casserole and dumplings onto plates and serve with steamed kale, shredded cabbage or green beans.
Recipe Tips
This casserole can be made with boneless, skinless chicken thighs if preferred, but the bone-in thighs add extra flavour.