Smooth and creamy raspberry chia pudding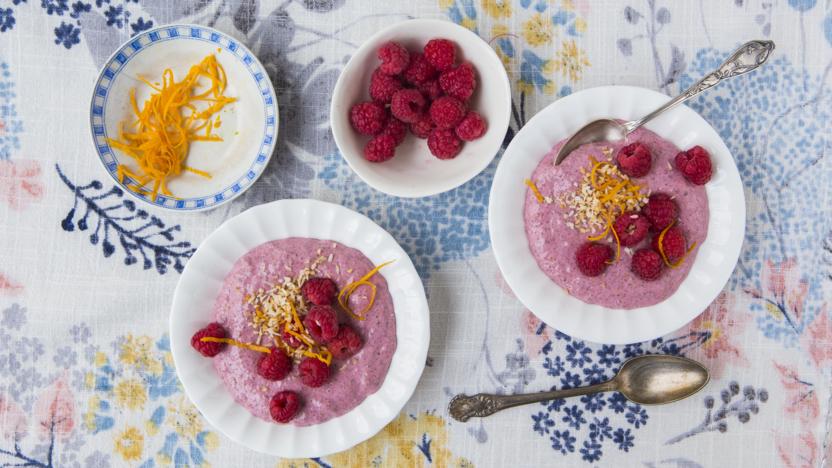 This low-sugar (potentially vegan) chia pudding is perfect for hot days and lazy mornings.

This dessert provides 575 kcal, 7g protein, 22g carbohydrate (of which 11.5g sugars), 52g fat (of which 32g saturates), 12g fibre and 0.1g salt per portion.
Ingredients
For the chia pudding
To garnish
Method
Blend the crème fraîche with the chia seeds, vanilla extract, honey, raspberries (reserving a handful of the raspberries for the garnish) and salt until smooth and well combined. Add the stevia, taking care to taste after each drop as stevia is very sweet.

Chill the chia mixture in the fridge for at least 4 hours, or preferably overnight.

To serve, divide the chia pudding equally among 4 serving bowls. Garnish with the reserved raspberries, toasted nuts and orange zest.
Recipe Tips
As an alternative to the crème fraîche you can use 80g/3oz cashews. Put the cashews in a bowl and pour over 500ml/17fl oz of cold water. Soak for 3 hours, then drain well and rinse under cold running water.
Related Recipes
See more British summer fruit recipes (40)
See more prepare-ahead desserts recipes (6)
See more creme fraiche recipes (288)