Smoked haddock with lentils and spinach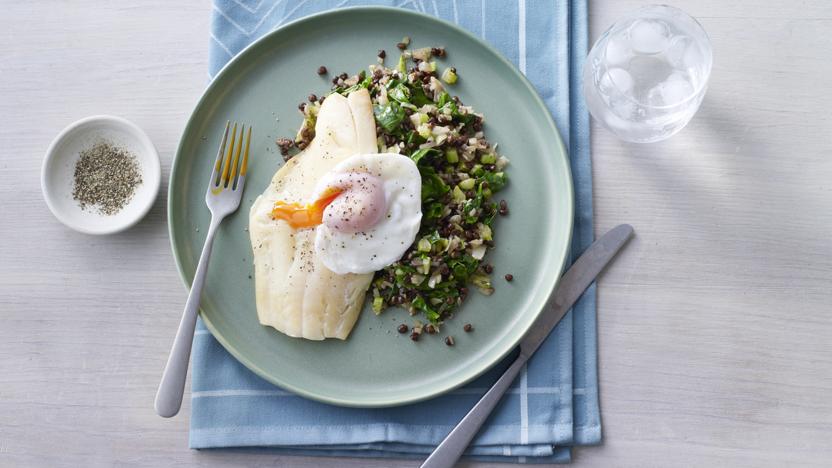 Smoked haddock is full of flavour, but low in fat and calories, which makes it ideal for a diet.

Each serving provides 305 kcal, 37g protein, 15.5g carbohydrate (of which 3.5g sugars), 9.5g fat (of which 2g saturates), 5.5g fibre and 1.5g salt.
Method
Heat the oil in a medium frying pan and cook the onion and celery for 3–4 minutes.

Add the garlic and lentils and cook for another minute.

Add 3 tablespoons of water and the spinach and cook for 5 minutes, adding more water if necessary.

Meanwhile, place the fish in a small frying pan, cover it with water and bring to the boil. Reduce the heat and simmer for 5 minutes, or until the fish is cooked.

Fill one-third of a small saucepan with cold water and bring to the boil. Crack the egg into a small bowl, then gently tip it into the simmering water. Lightly poach for 3–4 minutes. Remove with a slotted spoon and drain on kitchen paper.

To serve, spoon the lentils onto a plate, then top with the fish and poached egg.
Recipe Tips
To make this a 400 kcal dish, increase the quantity of fish to 150g/5½oz and the lentils to 125g/4½oz.