Small pork pies with quails' eggs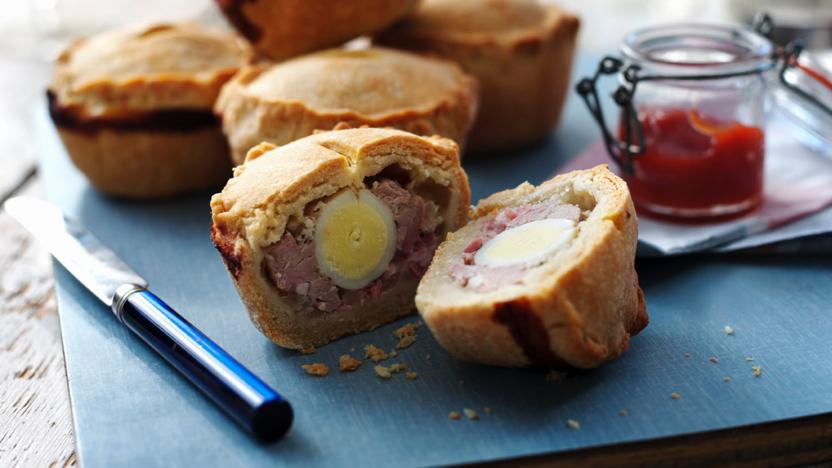 These dinky little pies are perfect for picnics or as part of a ploughman's lunch. The jelly is a nice touch but not essential if you're short of time.
Ingredients
For the hot water crust pastry
For the filling
1 onion, very finely chopped
350g/12oz pork loin, finely chopped
100g/3½oz unsmoked streaky bacon, finely chopped
small bunch of parsley, finely chopped
sea salt and freshly ground black pepper
1 free-range egg, beaten
1 chicken stock cube (optional)
150ml/5fl oz boiling water (optional)
2 leaves gelatine (optional)
Method
Preheat the oven to 200C/400F/Gas 6. Grease a 6-hole muffin tin

To make the pastry, sift the flours into a bowl and rub in the butter until the mixture resembles breadcrumbs. Bring the water and salt to a boil then add the lard and stir until the lard has melted.

Pour the lard and water over the flour mixture and stir to form a dough. Tip the dough onto a floured work surface and work into a smooth ball (you must work quickly or the dough will become too firm to handle).

Roll the pastry out to a thickness of about 3mm/⅛in. Cut out six 15cm/6in circles and use each circle to line a hole in the muffin tin. Cut six 10cm/4in circles for the lids and set them aside.

For the filling, cook the quails' eggs in a pan of boiling water for two minutes then refresh in cold water, peel carefully and set aside.

Put the onion, pork, bacon and parsley into a bowl, season with salt and freshly ground black pepper and mix until well combined. Spoon a little of the mixture into each lined pie case, place a quail's egg in the centre and spoon over a little more filling.

Brush the edge of each pie case with a little beaten egg, place the lids on top and crimp the edges together to seal completely. Make a small hole in centre of each pie and bake in the oven for 40 minutes.

When the pies are cooked, set them aside to cool for 10 minutes. If making the jelly, dissolve the stock cube in the boiling water. Soak the gelatine in a little cold water until soft then squeeze out excess water and whisk into the warm chicken stock.

Pour the gelatine mixture into the hole in the top of each pie until the hollow cavity within the pie is filled. Allow the pies to set in the fridge overnight.
This recipe is from...
Recipes from this episode