Slow-cooker oxtail ragù with gnocchi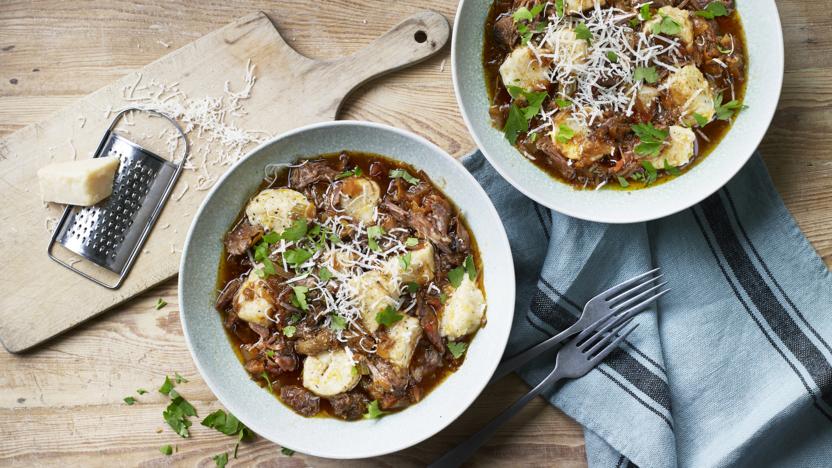 Oxtail is the perfect meat for cooking in the slow cooker. It's full of flavour and becomes melt-in-the-mouth tender. Use the microwave to cook the potatoes for an easy gnocchi, or use shop-bought. This recipe needs a large slow cooker.
Ingredients
For the ragù
For the gnocchi
Method
To make the ragù, heat the oil in a frying pan over a medium–high heat and fry the oxtail on each side until well browned. Do this in batches to avoid overcrowding the pan. Once browned, tip into your slow cooker pot or a large ovenproof casserole dish.

Tip the remaining ingredients into the pot and mix well. Refill the empty tomato tin with water and add to the cooker too, then season with salt and pepper. Stir once more and cover with the lid.

Cook the ragù in the slow cooker on high for 6–8 hours, or on low for 8–10 hours. Alternatively, cook in the oven for 4–5 hours at 170C/150C Fan/Gas 3.

Meanwhile, to make the gnocchi, pierce the potatoes and microwave on high for 20–25 minutes, until really tender. Set aside for 5 minutes, until cool enough to handle. Cut the potatoes in half, scoop out the flesh and pass through a potato ricer.

Mix the flour, Parmesan, salt, nutmeg and pepper together in a bowl, then turn out onto a clean work surface. Make a well in the middle then pour in the egg yolks and add the riced potato. Draw the mixture together and mix until you have a soft, smooth dough. Divide the mixture into four and roll out on a floured surface into sausages about 2cm/1in thick, then cut into pieces about 3cm/1¼in long.

For the ragù, if the meat is not quite tender, cook for another hour then check again – how quickly it will cook depends on the size of the oxtail pieces and the strength of the slow cooker. Lift the meat out and flake it off the bones. Pour or skim the fat off the stew and return the meat to the pan, then mix through.

Bring a large pan of water to the boil. Add the gnocchi and simmer for 2–3 minutes, until floating. Drain and serve alongside the ragù. Garnish with the parsley.