Slow-cooker chicken and vegetable tagine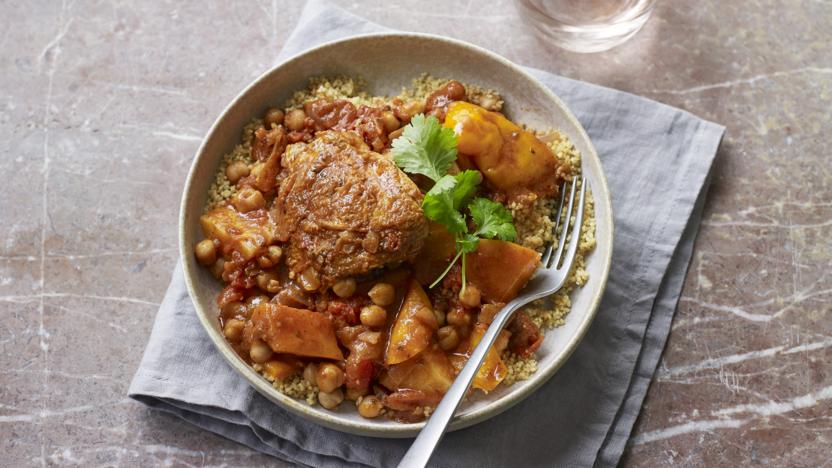 Out all day and want to come home to a scrumptious meal? This healthy slow-cooker casserole is your friend. You can even prepare it the night before and pop it in the fridge (in the slow cooker bowl) ready to cook in the morning.
Ingredients
2 tbsp olive oil
2 brown onions, cut into chunks
2 garlic cloves, chopped
4 chicken thighs, skin on, bone in
1 tsp ground cumin
1 tsp smoked paprika
1 tsp ground coriander
1 tsp ground cinnamon
1 tsp ground ginger
4 carrots, cut into chunks
2 parsnips, cut into chunks
2 peppers (any colour), seeds removed, cut into chunks
1 tsp dried oregano
400g tin chopped tomatoes
400g tin chickpeas, drained and rinsed
1 tbsp tomato purée
½ lemon, juice only
brown rice or wholewheat couscous, to serve
Method
Heat the oil in a frying pan over a medium heat. Add the onions, garlic and chicken and fry for 5 minutes, or until the onions have softened and the chicken is golden. Stir in the spices and then transfer to the slow cooker.

Put the carrots, parsnips, peppers and oregano into the slow cooker. Pour in the chopped tomatoes, then half-fill the tin with water and add to the slow cooker. Add the chickpeas, tomato purée and lemon juice.

Cook on low for 5–7 hours. The chicken should be falling off the bone. You can serve it as is or remove the bones before serving, with brown rice or wholewheat couscous.