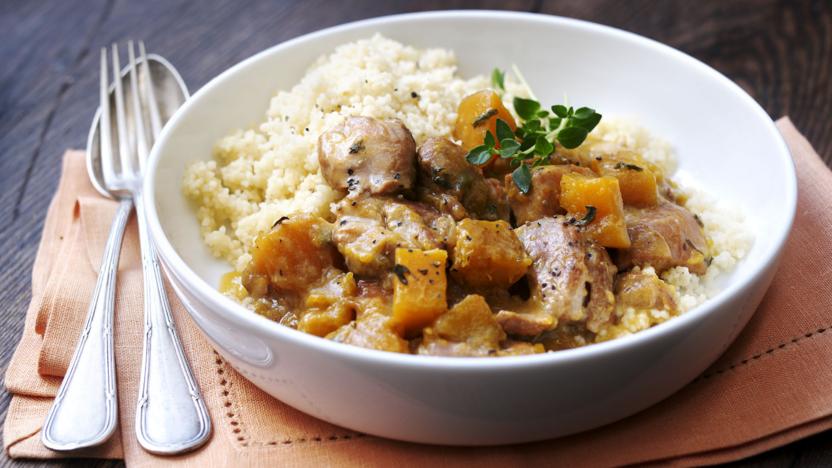 This creamy slow cooker chicken stew is cheap, filling and healthy too. Serve with couscous or mash.

Each serving provides 316kcal, 21g protein, 20g carbohydrate (of which 4.5g sugars), 14g fat (of which 4g saturates), 2.5g fibre and 0.6g salt.
Method
Heat half of the oil in a frying pan. Sprinkle the flour onto a plate, and dredge the chicken pieces in the flour and fry for 4–5 minutes, or until browned all over. (You may need to brown the chicken in batches.) Tip the browned chicken into the slow cooker.

Heat the remaining oil in a frying pan and fry the onion for five minutes, then add the garlic and chilli and fry for another 2–3 minutes. Add the wine and continue to cook for another few minutes, or until the volume of the liquid is reduced by half.

Tip the onion mixture into the slow cooker. Add the butternut squash, chicken stock, thyme and bay leaves to the slow cooker. Stir everything together, pressing down so that everything is covered in liquid. Cook for 8–10 hours on low.

About 30 minutes before serving, stir in the crème fraîche and season to taste with salt and freshly ground black pepper. Cook for a further 30 minutes, then stir in the parsley.
Recipe Tips
The stew can be cooked on the hob on low for 45 minutes to one hour, or until the chicken and butternut squash are tender. Stir in the crème fraîche and simmer for a further 10 minutes.