Slow cooker chicken shawarma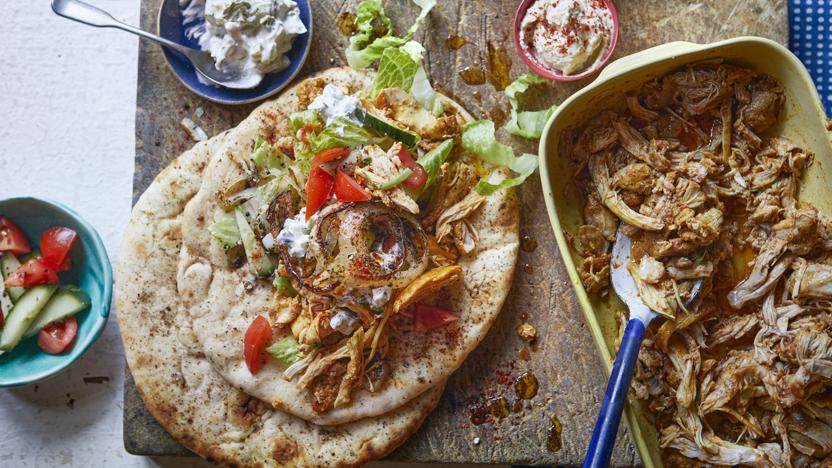 This recipe features smoky, charred onions, grilled quickly at the end to serve with the spiced, slow-cooked chicken. The onions are a clever way to add a charred flavour that you might be missing from the meat.


Ingredients
For the spice mix
To serve
Method
Marinate the chicken overnight for best results. Mix together the spice mix ingredients in a food bag or bowl then sprinkle the spices over the chicken thighs. Use your hands to massage the spices all over the meat. Cover and leave in the fridge overnight or for as long as you have time for.

Turn the slow cooker to the high setting to heat up. In a jug, whisk the garlic, lemon juice and olive oil with a fork. Drizzle a bit in the base of the slow cooker and then add the chicken. Arrange the thighs at angles to fit in snugly and to create an even layer with no gaps. Drizzle the rest of the lemony oil over the top. Cook on low for 6 hours or on high for 3 hours, until the chicken is falling apart and still juicy.

Turn the slow cooker off and preheat the grill. Lay the onion rounds on a baking tray, brush the tops with some of the juices from the slow cooker, season with salt and pepper and sprinkle with half of the oregano. Flip the onions over and repeat. Grill for 2–4 minutes on each side until the onions are well charred.

Use two forks to shred the chicken. Place the shredded chicken inside the warmed breads with the charred onions, salads items, sauces and pickles.