Easy slow cooker beef stew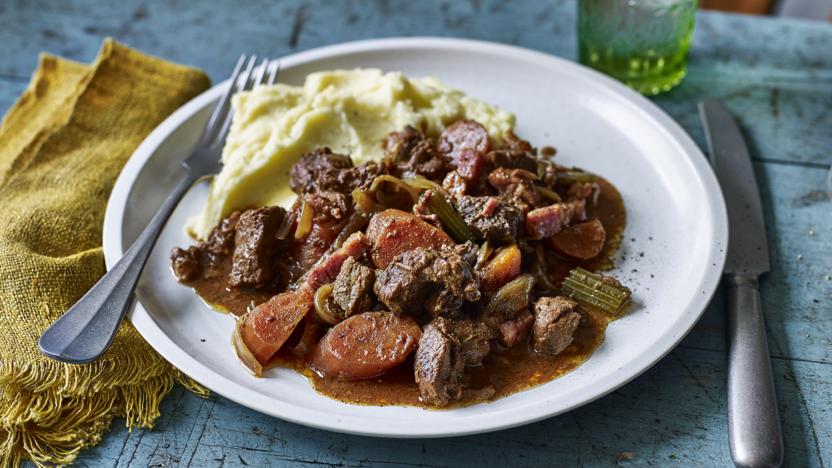 An easy slow cooker beef stew that's ready when you are. Throw store cupboard ingredients into the slow cooker with some inexpensive braising steak and serve with mash.

Each serving (without mash) provides 293 kcal, 34g protein, 13g carbohydrates (of which 13g sugars), 11g fat (of which 4g saturates), 4g fibre and 2.5g salt.
Method
Pour the just-boiled water into a heatproof measuring jug, add the stock cube, tomato purée and yeast extract. Stir well until the cube has dissolved and set aside.

Put the beef, bacon and vegetables in a slow cooker, sprinkle over the flour and add the salt, herbs and plenty of freshly ground black pepper. Toss together. Add the stock mixture and stir well.

Cover with the lid and cook on low for 8–10 hours, until the beef and vegetables are tender. Serve the beef stew with mashed potatoes.
Recipe Tips
Beef shin or beef brisket will also work in this stew. You can pack the slow cooker the night before and keep it in the fridge, but you must add cooled beef stock instead of hot. Take the packed slow cooker out of the fridge for 30 minutes before putting it on to reduce the risk of cracking the dish. The stew will take 10 hours if started from cold.