Sicilian pasta con pangrattato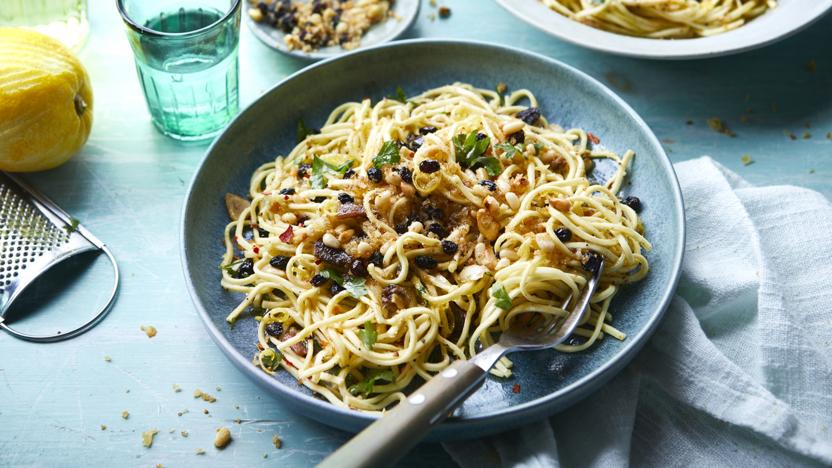 This is double-carb heaven. Pangrattato are Italian crispy breadcrumbs, and a great way to use up stale bread. Sprinkle generously over lemony, garlicky pasta for a quick, satisfying dinner.
Ingredients
For the pangrattato
For the spaghetti
Method
To make the pangrattato, heat 1–2 teaspoons of olive oil in a frying pan and quickly fry the breadcrumbs, nuts and currants until golden-brown. Tip into a bowl and set aside.

For the spaghetti, boil the spaghetti in a pan of salted water for 10–11 minutes, or until al dente.

Meanwhile, pour the oil from the anchovies into a frying pan, adding enough olive oil to make 2½ tablespoons in total. Heat over a low heat, then add the garlic and fry very gently until starting to colour. Add the anchovies and grind in some black pepper. Cook until the anchovies start to break down, then take off the heat.

Drain the spaghetti, then add to the pan of fried garlic and anchovies, along with three-quarters of the parsley, the lemon zest and the chilli flakes, if using. Stir well to combine.

Spoon into two bowls and top with the pangrattato and remaining parsley.
Recipe Tips
To make dried breadcrumbs, cut the crusts off stale white bread and put in a food processor. Blend to make crumbs. Spread out on a large baking tray and bake at 140C/120C Fan/Gas 1 for 17–25 minutes, stirring regularly until crisp and dry but not browned. Leave to cool, then store in an airtight container for 1–2 weeks.