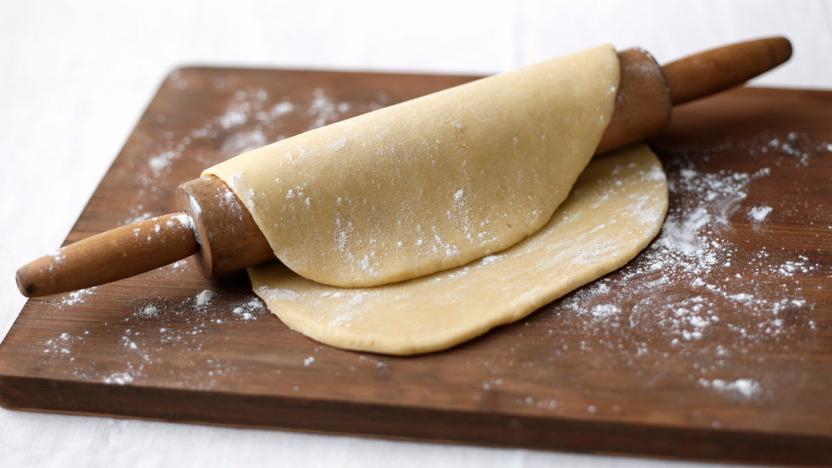 This is a quick and easy recipe for shortcrust pastry. If you're new to making pastry, you won't believe how simple it can be. You can make it by hand or in a food processor. The secret is to handle the pastry as little as possible, and give it time to rest before baking.
Method
Put the flour and salt in a large bowl and add the cubes of butter.

Use your fingertips to rub the butter into the flour until you have a mixture that resembles coarse breadcrumbs with no large lumps of butter remaining. Try to work quickly so that it does not become greasy.

Using a table knife, stir in just enough of the cold water to bind the dough together. You should always start with 1-2 tablespoons and add more if absolutely needed (shorter pastry will have a better texture, though can be a bit crumbly to work with).

Gently knead the pastry on a clean work surface until it just comes together. Handle the pastry gently and as little as possible, just to bring it together to a smooth dough.

Alternatively using a food processor, put the flour, salt and butter in the food processor and pulse until the fat is rubbed into the flour. With the motor running, gradually add the water through the funnel until the dough comes together. Only add enough water to bind it and then stop.

Wrap the dough in cling film as before and chill for 30 minutes before using.

Alternatively, roll out immediately and line the tin, resting the pastry case in the fridge for 30 minutes before baking.
Recipe Tips
This quantity of pastry will line a 20cm/8in flan tin, or will line 6 x 10cm/4in tartlet tins.
Add 2 tablespoons of caster sugar to the rubbed in butter and flour mix to make a sweet shortcrust pastry. You can also add an egg yolk, before adding the water, for extra richness.