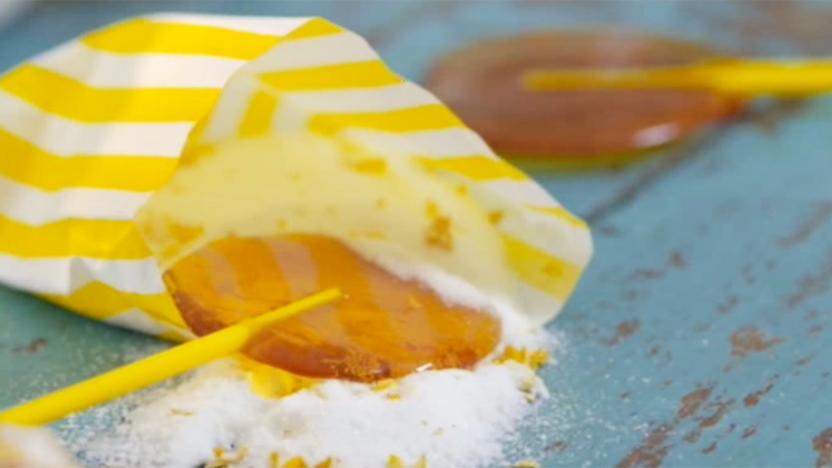 For a super sweet treat, share out these lemon lollies dipped in homemade zingy lemon sherbet.

Equipment and preparation: you will need a sugar thermometer.
Ingredients
For the lollies
For the sherbet
Method
To make the lollies, draw four 6cm/2½in circles on a piece of baking parchment. Lightly grease the circles with vegetable oil.

Put the sugar, lemon juice, liquid glucose and a tablespoon of boiling water in a small heavy-based pan and heat gently to dissolve the sugar. Add a sugar thermometer and increase the heat until the syrup is simmering steadily. Watch the temperature carefully and cook until it reaches 150C/300F (the 'hard crack' stage). (CAUTION: boiling sugar is extremely hot. Handle very carefully. Use a deep pan to avoid boiling over.)

Quickly dip the base of the pan into cold water to stop it cooking any further.

Take a teaspoon and carefully spoon some of the syrup into each circle on the parchment. Push in the sticks and spoon some more syrup onto each lolly. Set aside to cool.

While the lollies are setting make the sherbet. Preheat the oven to 150C/300F/Gas 2. Use a vegetable peeler to pare the yellow peel from the lemon, leaving as much white pith as possible on the fruit. Put the peelings on a baking sheet and bake for 15–20 minutes in the preheated oven until dried out and golden-brown. Allow to cool.

Blend the lemon peel in a blender, or use a knife, until finely chopped. Add the caster sugar and citric acid and blend again briefly to combine.

Eat the lollies with the sherbet.
This recipe is from...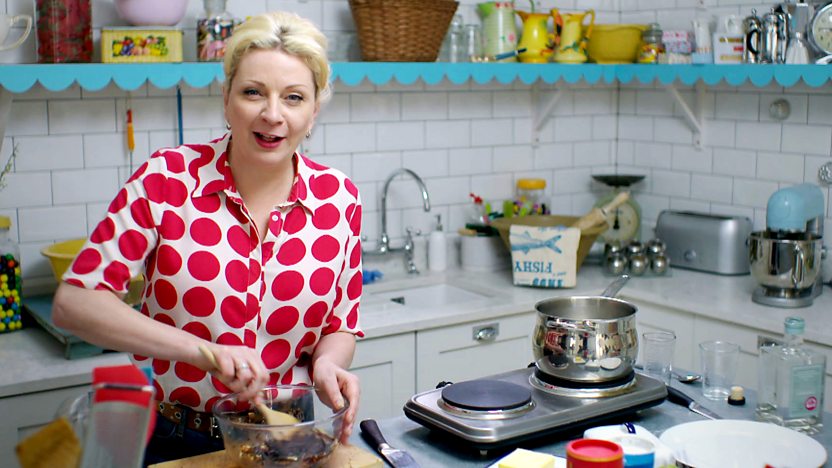 Sweets Made Simple
Episode 2
Recipes from this episode