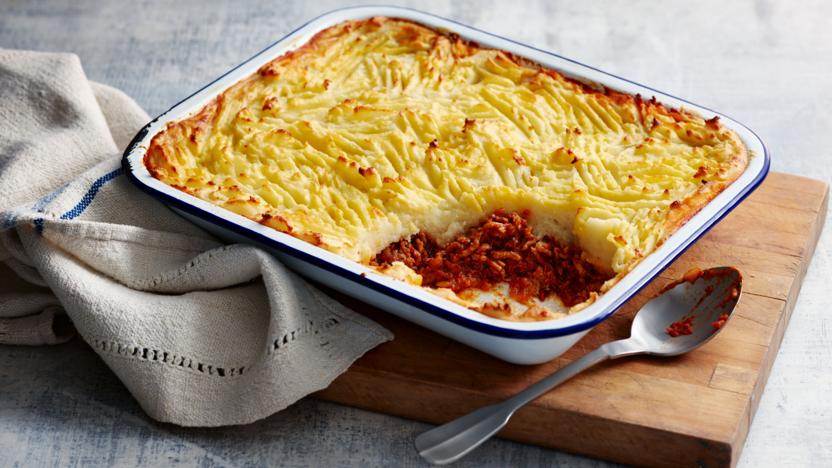 Make this easy shepherd's pie recipe of a wintry evening – it's comfort food at its best. This one has a secret ingredient for extra savouriness. Don't worry about making it look fancy; the peaks and ridges on the mash just add to the appeal!

Each serving provides 743 kcal, 34g protein, 45g carbohydrates (of which 10g sugars), 46g fat (of which 23g saturates), 5.5g fibre and 1.2g salt.
Method
In a large saucepan, heat the vegetable oil. Add the onion and cook for 5 minutes.

Meanwhile, in a large frying pan, heat the olive oil and fry the mince, stirring, until browned all over. While the meat is frying, break up any lumps with the back of the spoon.

Stir the onions, then add the flour and stir. Add the bay leaves, thyme and anchovy and stir. Add the chopped tomatoes, stock (keep a little aside, for putting into the mince pan to de-glaze the pan) and Worcestershire sauce.

Add the cooked mince and then pour the stock mixture into empty mince pan, scraping off any bits of mince left in the pan. Pour the remaining stock into the pan containing the sauce mixture. Bring the mixture to the boil, adding a pinch of salt and pepper and let it simmer for about 45 minutes, stirring regularly.

Preheat the oven to 200C/180C Fan/Gas 6.

For the mash, boil the potatoes until tender. Drain, add the milk, butter and egg yolk, then mash until smooth. Season with salt and pepper.

Pour the meat into a 1.4-litre/2½-pint ovenproof dish and spread the mash on top, smooth over and mark with a spatula. Put the dish into the oven and cook until the surface is golden brown.
Recipe Tips
Freeze the meat filling for this shepherd's pie and mashed potato separately in freezer-proof containers. These will keep in the freezer for up to 2 months. To cook from frozen, defrost the meat and mashed potato in the fridge overnight and then continue from step 7, making sure the shepherd's pie is piping hot all the way through before serving.