Sharing chocolate fondant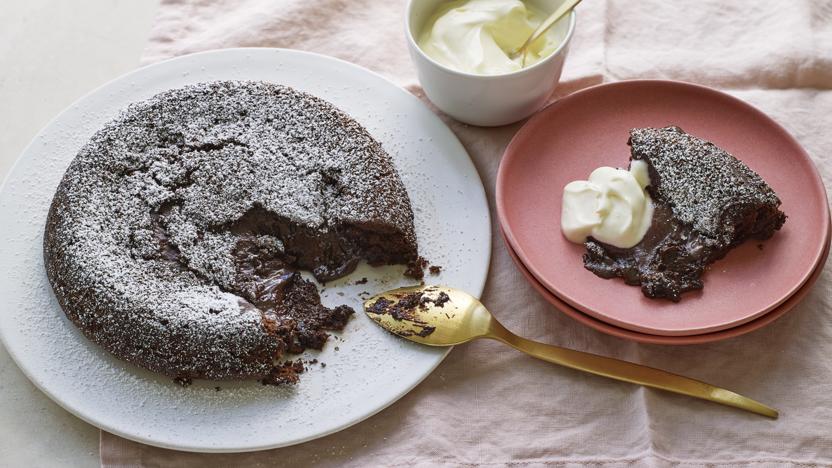 This sharing chocolate fondant is the perfect pudding for a family lunch or dinner. Much less faff than individual ones.

If you're feeling brave, you could try and turn it out like we did for the photo, but it's much easier to leave it in the dish!

Method
Use a pastry brush to grease a 23cm/9in non-stick or enamel pie dish (I use a 22cm/8½in round enamel pie dish that is 4.5cm/1¾in deep). Grease the base and right up the sides of the dish with butter until completely covered. Pop into the freezer for 5 minutes. Take out of the freezer, sprinkle over the cocoa powder and tip the dish so that the butter catches all the cocoa and the dish is completely covered. Put the dish in the fridge.

Preheat the oven to 180C/160C Fan/Gas 4. Place the butter and chocolate in a glass bowl and melt either over a saucepan of gently simmering water, making sure the water does not touch the bowl, or in the microwave in 30-second bursts on low, stirring in between. Once the butter and chocolate are totally melted and mixed, leave to cool.

In another bowl, add the eggs, egg yolks and sugar and whisk until the mixture is light and fluffy. This should take 2–3 minutes using an electric hand-held whisk on high. Add the melted chocolate mixture and whisk until you have an even, smooth mixture. Fold in the flour until it is completely incorporated and no flour is showing.

Take the dish out of the fridge, pour in the mixture into the dish and allow to level off naturally. Bake for 17–18 minutes. The fondant should be set around the sides and on top, but still gooey in the middle. Leave it in the dish to serve, or, if you're feeling brave, place a serving plate on top and turn the fondant out onto the plate.

To serve, dust with icing sugar, add dollops of crème fraîche and get stuck in while it is still hot. This needs to be eaten straightaway as it carries on cooking if left and the gooey middle will start to set – and we don't want that to happen!
This recipe is from...
Recipes from this episode