Sesame chicken kebabs with mango salsa
Preparation time
30 mins to 1 hour
Cooking time
10 to 30 mins
Looking for an easy chicken recipe? Nick Nairn's stunning kebabs make a great barbecue recipe, or are fabulous fried.

Equipment and preparation: You will need 24 small bamboo or metal skewers for this recipe.
Preparation time
30 mins to 1 hour
Cooking time
10 to 30 mins
Ingredients
For the kebabs
For the mango salsa
For dipping
Method
For the kebabs, soak 24 small bamboo skewers in cold water for 20 minutes. Alternatively you can use metal skewers.

Put the pancetta (or bacon) and the chicken cubes into a food processor and blend to a smooth paste.

In a small bowl, whisk the egg white with the salt, sugar, cornflour and sesame oil. Add these to the processor and blend to make a smooth, slightly rubbery mixture.

Transfer the mixture to a bowl, and stir in the water chestnuts and spring onions.

Take one heaped teaspoon of the mixture at a time and squeeze it around one end of a bamboo or metal skewer, extending the kebab halfway down. Repeat until all the mixture is used up to make about 24 skewers.

Sprinkle the sesame seeds on a small flat tray and roll each kebab in the sesame seeds.

Heat a frying pan containing 1cm/½in of oil, until just starting to smoke, add the kebabs and cook on each side for about 1½ minutes, or until cooked through and golden-brown.

Drain on kitchen paper.

For the mango salsa, place all the ingredients into a bowl and mix lightly to combine.

To serve, place the skewers onto a plate and serve immediately with separate bowls of soy sauce and sweet chilli sauce for dipping. Pile the salsa alongside.
Related Recipes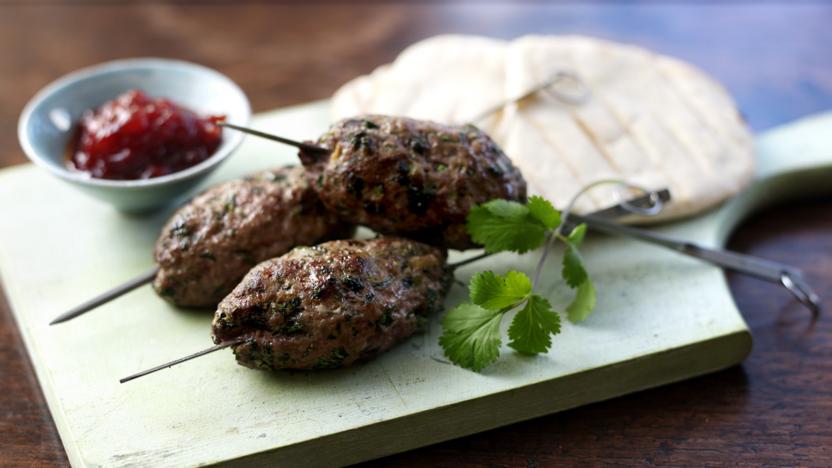 See more kebab recipes (47)