Preparation time
less than 30 mins
Cooking time
30 mins to 1 hour
This is a simple fish pie of the kind beloved by children, but with an oaty, buttery cayenne topping. Can be served with cheesy garlic bread and a green salad.


Preparation time
less than 30 mins
Cooking time
30 mins to 1 hour
Ingredients
For the fish
For the crumble
To serve
Method
Preheat the oven to 200C/180C Fan/Gas 6. Have a 20x30cm/8x12in rectangular casserole dish at the ready.

Lower the eggs gently into boiling water and simmer for 8 minutes. Rinse under cold water and, when cool to touch, peel from their shells, cut the eggs into quarters and set aside.

Put the milk and fish into a small saucepan and warm gently until the fish is poached – this can take 3–4 minutes. Remove the fish from the pan to a plate, and set the milk aside.

Melt the butter in a frying pan. When it has melted, add the flour and stir in well. Add the milk gradually, whisking all the time until it has all been poured in. Keep whisking until the mixture thickens. You will know it is ready when the mixture coats the back of a spoon.

Put the fish back into the sauce and add the mustard, salt, chives, peas and quartered eggs. Gently mix together, making sure not to break the fish up too much.

Pour the mixture into the casserole dish and start making the crumble.

For the crumble, put the flour and butter into a bowl. Rub the butter into the flour, then add the oats, salt, cayenne and crispy onions and mix it all together.

Scatter the crumble over the fish and bake in the oven for 25 minutes. Serve on four warmed plates with the garlic bread and green salad.
Related Recipes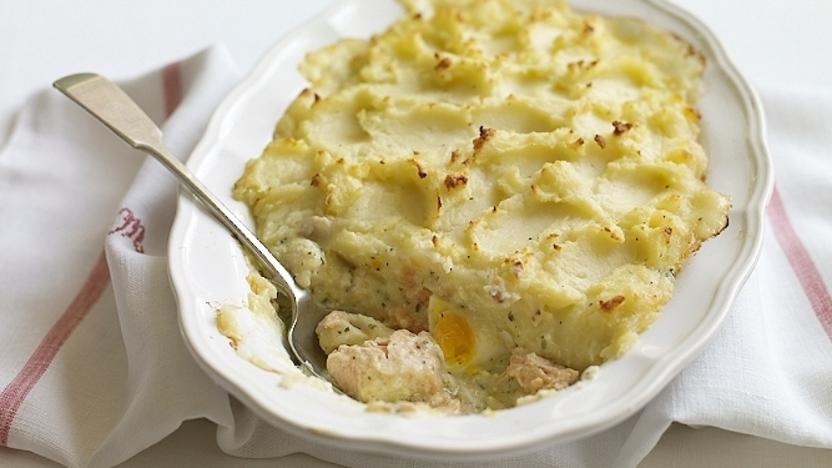 See more fish pie recipes (20)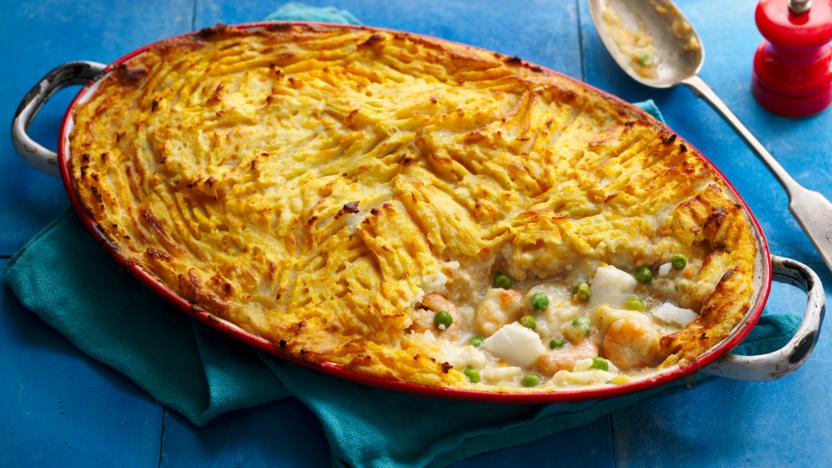 See more fish recipes (15)
This recipe is from...
Recipes from this episode