Scallops Coquilles Saint Jacques with a Little Gem salad
Preparation time
30 mins to 1 hour
Cooking time
30 mins to 1 hour
This French classic is deceptively easy to make and makes a lovely starter or smart lunch.

Preparation time
30 mins to 1 hour
Cooking time
30 mins to 1 hour
Ingredients
For the Coquilles Saint Jacques
For the vegetables
For the salad
Method
Preheat the oven to 220C/200C Fan/Gas 7. Prick the potatoes with a sharp knife, then bake for 45 minutes, or until cooked through.

Meanwhile, remove the scallops from their shells, clean well and trim. Put the trimmings in a saucepan, add the fish stock and warm through. Set aside.

Clean four of the deep halves of the shells, then put them in the oven for 2 minutes to dry out. Remove from the oven and put them on a baking tray on mounds of salt, to keep them level.

Leave the potatoes to cool for a few minutes, then cut them in half and scoop out the flesh. Pass the flesh through a ricer into a bowl, add the egg yolks and 25g/1oz butter, then beat with a spatula until smooth. Season lightly with salt and pepper, then spoon into a piping bag and pipe carefully around the edge of the four shells on the baking tray.

Heat a saucepan until just hot. Melt 50g/1¾oz butter, then stir in the flour and cook for 2 minutes to make a roux. Remove from the heat.

Pour the warm fish stock through a sieve into the roux, stirring all the time. Add the cream, then return to the heat and bring to a simmer. Cook for 2 minutes, whisking often, until thickened. Season, add the chervil and keep warm.

Preheat the grill to high. Season the scallops with salt and freshly ground black pepper. Heat a frying pan until hot, then add the remaining 50g/1¾oz butter and cook the scallops on each side for 1-1½ minutes, or until golden-brown. Transfer them to kitchen paper to drain.

For the vegetables, heat a separate frying pan and add the butter. Once hot, add the shallot and fry for 2 minutes. Add the courgette, carrot and leek and fry for a further 1 minute.

Put the vegetables into each scallop shell, so that they are visible over the edge of the shell. Place two scallops in each shell on top of the vegetables. Cover generously with the roux-and-fish-stock sauce, and sprinkle with the cheese and breadcrumbs.

Put the baking tray with the scallops on under the grill for 1–2 minutes, until the sauce is lightly glazed and the potato border pale golden.

Meanwhile, for the salad, put the leaves and chives in a large bowl. Put all the remaining ingredients apart from the herb oil, if using, in a blender and whizz until smooth. Just before serving, toss the leaves and chives in 4 teaspoons of the dressing. Serve the scallops, drizzled with the herb oil, if using, with the salad.
Related Recipes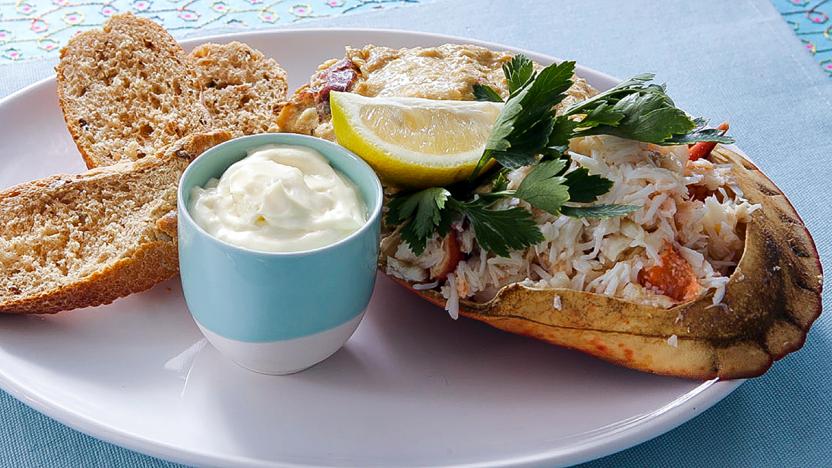 See more seafood recipes (133)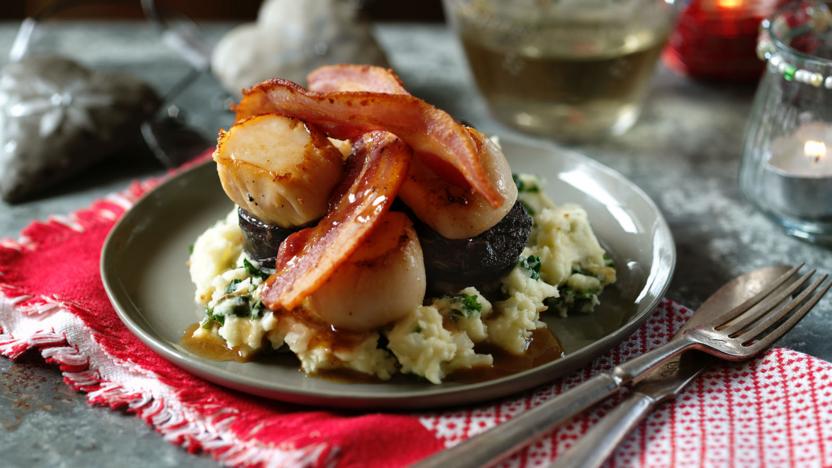 See more scallop recipes (124)