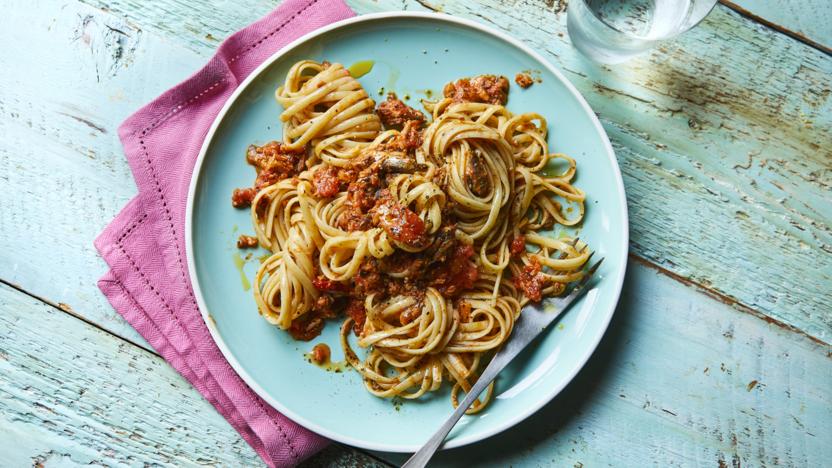 Like a puttanesca sauce, but with sardines in place of the anchovies, this simple storecupboard pasta recipe works well with any strongly flavoured tinned fish.

Each serving provides 504 kcal, 23g protein, 50g carbohydrates (of which 5g sugars), 22.5g fat (of which 3g saturates), 4g fibre and 1.3g salt.
Method
Tip the sardines into a saucepan, removing any large bones, and mash lightly with a fork. Add the tomatoes, stock and olives, then add the lemon juice or vinegar and plenty of black pepper, and bring to the boil. Turn down the heat and simmer for 30 minutes; you may need to add a splash of water to stop it from drying out.

When the sauce is cooked, remove it from the heat and leave to cool (see Recipe Tip).

Cook the pasta in a pan of plenty of boiling salted water for 8 minutes, or according to the packet instructions. Drain and add to the sauce, and warm through to serve.
Recipe Tips
You can use anchovies, skippers, brisling or sardines, in brine, oil or tomato, which gives you a lot of scope to explore! Different fishes will need different amounts of lemon and pepper to balance the flavour, so add a little and taste, then adjust according to your personal preference.
Leaving the sauce to cool in the pan encourages the flavours to develop as the residual heat continues to cook the sauce as it cools – a neat energy-saving trick for cooking things for longer without using too much gas or electricity. If you cover with a lid or large plate the pan will retain even more of the heat, acting like a slow cooker.
In March 2022 this recipe was costed at an average of £1.99 when checking prices at four UK supermarkets. This recipe is designed to be made in conjunction with a low-cost store-cupboard, for more details click here to see how our budget recipes were costed.