Sardines in tortillas with spicy tomato sauce and refried beans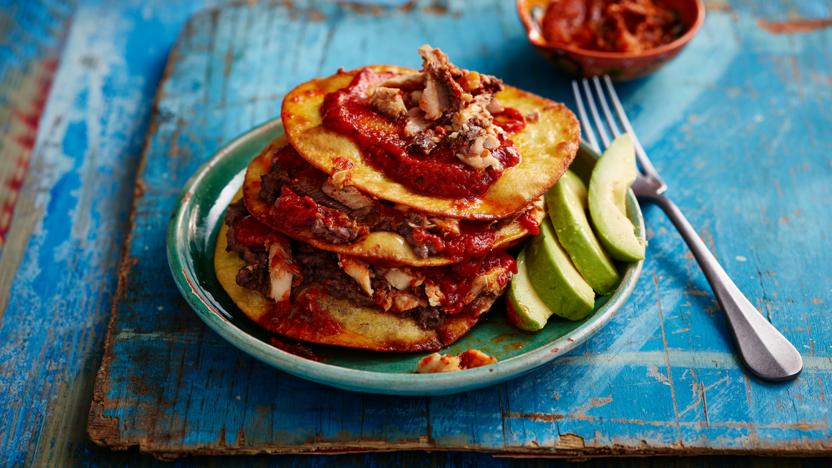 Pan de cazon, literally translated as bread with dogfish, is a dish popular in Yucatan. I was surprised to find that the dogfish tasted more like tinned sardines. So I tried making this with a couple of tins of sardines and it was really lovely.
Ingredients
2 tbsp olive oil
1 medium onion, sliced
1 clove garlic, chopped
1 tsp dried epazote or oregano
½ –1 habanero chilli, stem and seeds removed, roughly chopped
600ml/20fl oz tomato passata
250g/9oz sardines in olive oil, drained
250ml/9fl oz corn oil, for deep frying
12 small corn tortillas (about15cm/6in tortillas)
salt and freshly ground pepper
1 avocado, stone and skin removed, to serve
For the refried beans
Method
To make the refried beans, place the beans in a large saucepan, pick out any stones and cover with about 2 litres/1¾ pint water. Add the 1 onion, 2 garlic cloves, 1 bay leaf and salt and bring to the boil. Skim off any scum that comes to the surface and boil for 10 minutes. Simmer for 45 minutes – 1 hour on a low heat until tender but not disintegrating. Remove the bay leaf and mash the beans with either use a potato masher or blend in a food processor for a smoother result.

Meanwhile, to make the sardine 'stew', heat the oil in a saucepan over a medium heat and sweat the onion, garlic, dried epazote, or oregano, and chilli until very soft. Add the passata and cook for 15–20 minutes.

Tip into a food processor and a blend until smooth. Season with salt and a generous amount of pepper to taste.

Tip two-thirds of the sauce back into the pan and add the sardines, reserve the remaining sauce for later. Bring the pan to a simmer for 15 minutes or until the fish has broken up and combined with the sauce.

Meanwhile, finish making the refried beans. Melt the lard in a frying pan and sweat the remaining onion until it's soft and golden. Add the remaining garlic and chilli and continue to cook for 2–3 minutes until softened. Add the mashed beans to the pan with the fried onions and cook over a medium heat. Add the epazote, or oregano, and the salt and cook until the mixture reaches your desired consistency. It's better to keep it on the looser side as it will firm up considerably as it cools.

Heat the corn oil in a deep frying pan until it browns a cube of bread quickly (CAUTION: hot oil can be dangerous. Do not leave unattended). Fry the tortillas one at a time for 1–2 minutes until crisp. Drain on kitchen paper.

Spread 8 of the tortillas with the refried beans. Place one tortilla on each plate and spoon over a little sardine 'stew'. Top with the second tortilla, bean-side up, then add more 'stew' finish with a third tortilla and divide the remaining sauce over equally.

Garnish with avocado and serve immediately.
This recipe is from...
Recipes from this episode