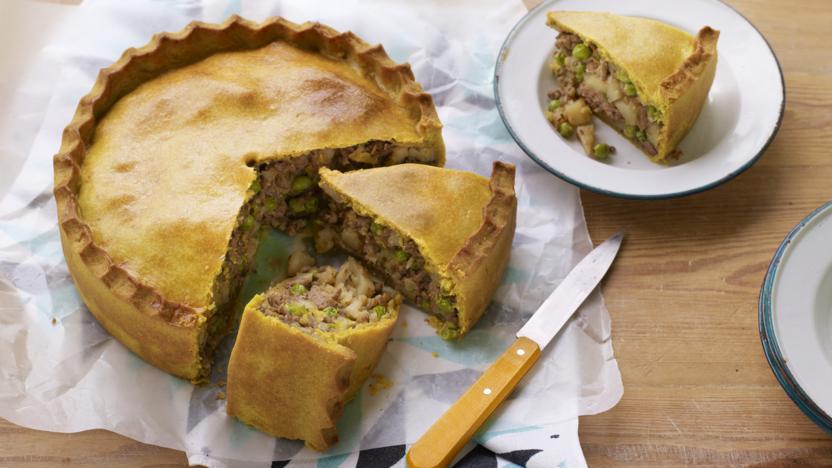 Preparation time
less than 30 mins
Nadiya's all-time favourite samosa crossed with her favourite picnic pie recipe. With an aromatic meaty filling and a crisp shell made with hot water crust pastry.

For this recipe, you will need a 20cm/8in round loose-bottomed cake tin.
Preparation time
less than 30 mins
Ingredients
For the filling
For the hot water pastry
Method
For the filling, heat the oil in a large saucepan over a medium heat. Add the onions and salt and cook until soft and translucent. This will take about 5 minutes.

Add the ground ginger, garlic granules, cumin seeds and chilli flakes and cook for a few minutes. Add the lamb mince and cook until it is browned.

Stir in the potatoes, then reduce the heat to low–medium, cover the pan and steam-cook for 20 minutes, or until the potatoes are soft.

Add the frozen peas and cook them through.

Stir in the cornflour – this will help to thicken any juices left at the bottom of the pan. Take off the heat and stir in the chopped coriander. Set aside to cool completely - the filling needs to be totally cold.

Preheat the oven to 200C/180C Fan/Gas 6. Have ready a 20cm/8in round loose-bottomed cake tin.

For the hot water pastry, put the two flours into a bowl with the salt and turmeric. Mix well, then make a well in the centre.

Put the water and fat into a pan and heat until the fat has melted. Pour into the well in the flour, then mix, using a palette knife. As soon as the dough is cool enough to handle, get your hands in and bring it all together.

Lightly dust a work surface. Set aside one-third of the dough for the top, and roll out the other two-thirds to fit the base and sides of the cake tin, with some overhang. Line the inside of the tin with the pastry, making sure to leave the extra hanging over the edge.

Fill the pastry with the samosa filling.

Roll out the rest of the pastry to make the top. Brush the inner ring of the pastry where the top of the filling ends and put the pastry lid on top, making sure to push it down so that the top meets the filling well. Press the edges, making sure they are sealed. Cut off the overhanging pastry and fold the remaining cut edge back into the tin. Crimp the edges to seal the pie.

Brush with beaten egg and pierce a hole in the centre so the steam can escape, then bake for 1 hour.

Leave to cool completely in the tin, then remove and cut into slices.
Related Recipes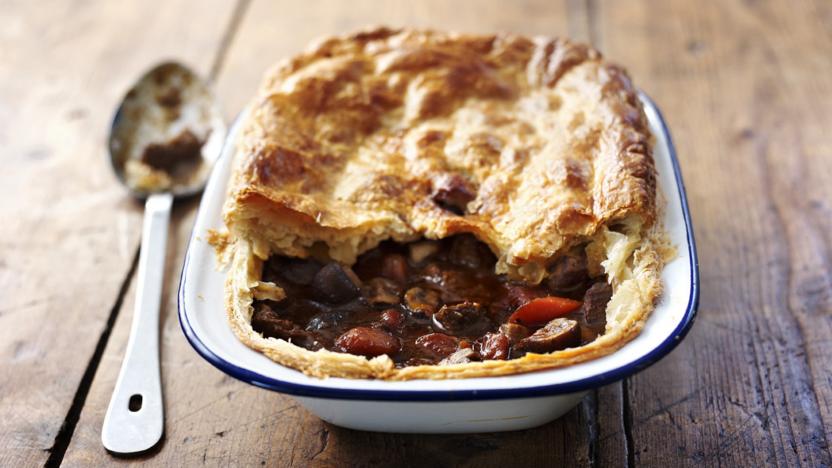 See more Football pies recipes (22)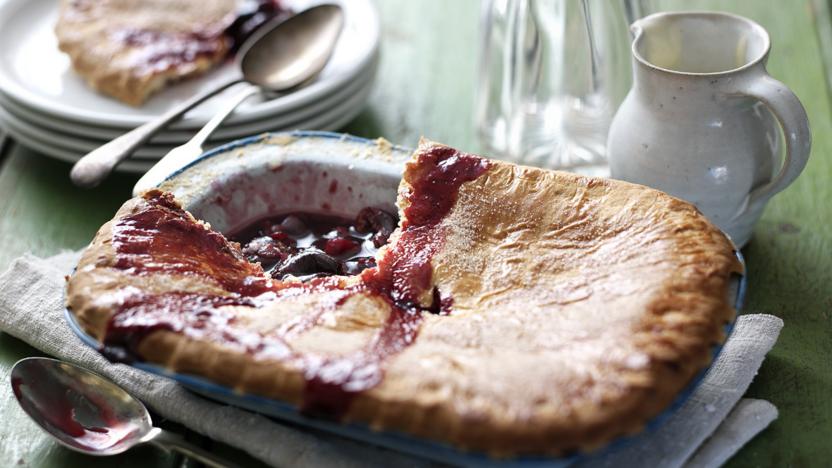 See more pie recipes (65)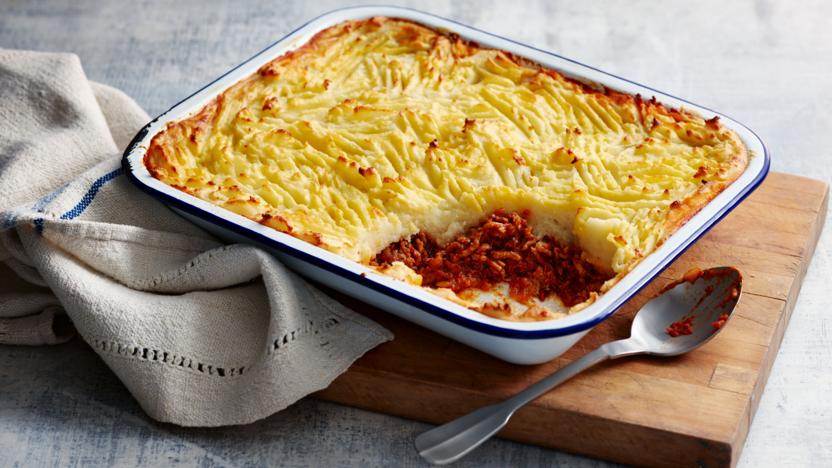 See more lamb mince recipes (59)
This recipe is from...
Recipes from this episode