Salt marsh lamb, samphire and broad beans, with balsamic meat juices
Method
Preheat the oven to 200C/400F/Gas 6.

Heat an ovenproof frying pan until hot, add the olive oil and lamb steaks skin-side down and cook for 2-3 minutes on each side. Transfer to the oven and cook for 12-15 minutes, or until cooked to your liking. Remove from the oven and place the lamb onto a plate to rest. Reserve the pan and its juices for later.

Meanwhile, heat a clean frying pan until hot, add 25g/1oz of the butter and the samphire. Fry for 2-3 minutes, until just wilted.

Add the broad beans and stir to combine. Season with salt and freshly ground black pepper.

Place the shallot, garlic and parsley into a bowl and toss to combine. Set aside.

Take the frying pan the meat was cooked in, drain off any meat juices into a clean bowl and reserve.

Place the pan over a medium heat and add the balsamic vinegar. Bring to the boil and stir, scraping up the bits at the bottom of the pan.

Add the lamb or veal stock and simmer for one minute.

Add the remaining butter and stir gently until melted and combined.

Add the reserved meat juices to the pan and bring to a simmer. Season with salt and freshly ground black pepper.

To serve, slice the lamb thickly and arrange on four serving plates. Place the rock samphire around the sliced lamb, then pour the sauce over the lamb. Scatter over the parsley mixture and serve.
This recipe is from...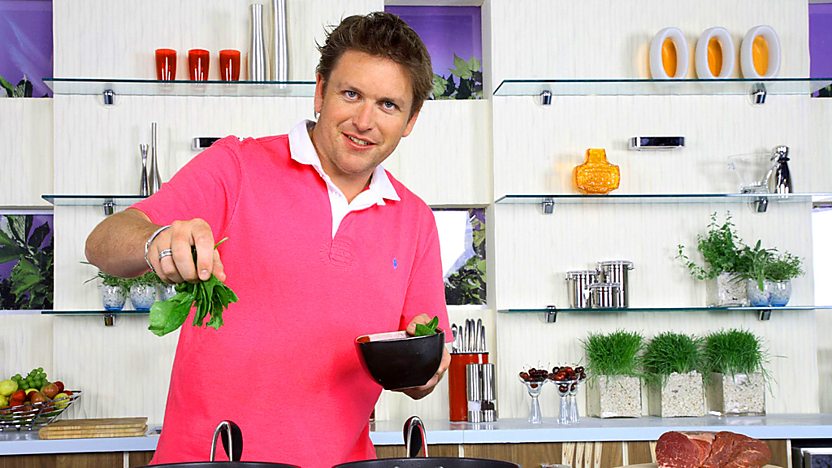 2007-16
Episode 85
Recipes from this episode