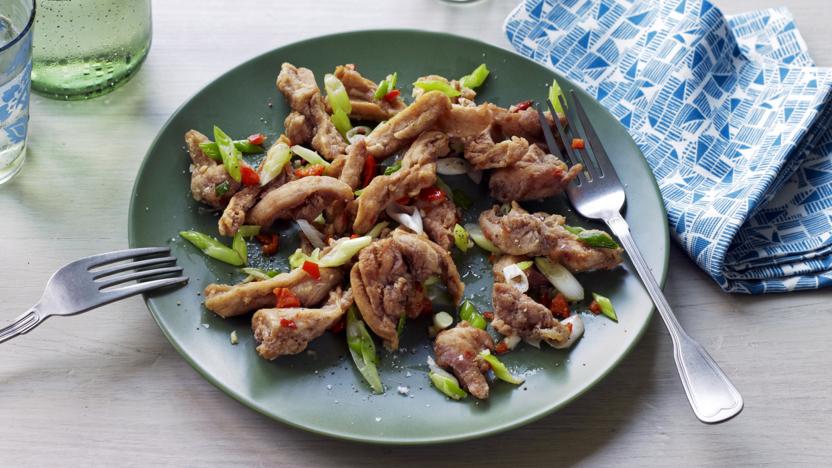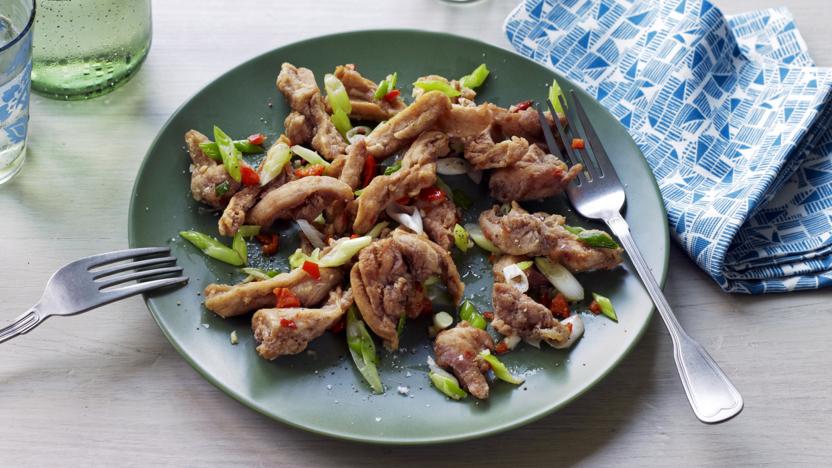 Preparation time
less than 30 mins
Cooking time
10 to 30 mins
This quick and easy salt and pepper chicken recipe is a classic that's wonderful as a party nibble or a main course served with steamed rice and vegetables.
Preparation time
less than 30 mins
Cooking time
10 to 30 mins
Method
In a large bowl, mix the cornflour, salt, five-spice and tablespoon of pepper together and set aside.

Heat the oil in a wok or large pan to 180C on a cooking thermometer, or until a teaspoon of cornflour sizzles when dropped in. (CAUTION: Hot oil can be dangerous. Do not leave unattended.)

Toss the chicken in the flour mixture, working in batches. Carefully add it to the oil and cook for 2–3 minutes on one side, until golden brown and cooked though. Turn and cook for a further 2–3 minutes. Drain on kitchen paper.

Heat the remaining 1 tablespoon of oil in a clean pan over a medium heat. Add the spring onions, chilli, garlic and remaining teaspoon of pepper with a pinch of salt. Fry for 1–2 minutes, then add the cooked chicken. Toss and cook for a further 2–3 minutes, until the chicken is coated in the onions, garlic and chilli.
Related Recipes
See more Make it easy recipes (29)
See more fried chicken recipes (23)
See more chicken thigh recipes (153)