Salmon and haddock fishcake on buttered spinach with sorrel sauce
Preparation time
over 2 hours
Cooking time
30 mins to 1 hour
Preparation time
over 2 hours
Cooking time
30 mins to 1 hour
Ingredients
For the fishcakes
350g/12oz smoked, undyed haddock fillets
225g/8oz salmon
milk, for poaching the haddock (seasoned with ½ onion, 1 sliced carrot, 1 bay leaf, 4 peppercorns and 2 cloves)
350g/12oz dry mashed potatoes
115g/4oz melted butter
2 small onions, finely diced and sweated in butter
3 tsp anchovy essence
4 hard-boiled eggs, chopped
3 tbsp chopped parsley
2 tbsp chopped dill
salt and freshly ground black pepper
flour, for coating
egg, beaten, for dipping
breadcrumbs from white or brown bread
85g/3oz butter, for frying
For the spinach
For the sorrel sauce
Method
Cook the haddock and salmon in seasoned milk (onion, carrot, bay leaf, peppercorns and two cloves) until cooked.

Remove from the milk and, when cool enough to handle, flake the fish, discarding any skin or bone. Combine the haddock with the potato, butter, onions and anchovy essence in a mixer with a dough hook, then fold in the salmon, eggs, parsley and dill by hand until well combined (do not overmix).

Season to taste. If the mixture is too dry at this point add some of the haddock poaching milk.

Divide the mixture into four equal amounts. Dip in the flour, then the egg and finally the breadcrumbs and shape into patties. Refrigerate for two hours before use. Pan-fry in butter for five minutes each side, then keep warm in the oven.

Melt the 15g/1oz unsalted butter in a shallow pan. Once the butter is hot and foaming add the spinach and gently heat until the leaves have wilted. Remove from the heat and roughly chop the leaves.

To make the sorrel sauce, heat the fish stock until it has reduced by half, add the cooked sorrel and cream and gently heat until warmed through. Serve the fishcake on a bed of spinach and pour the sorrel sauce over the top.
Related Recipes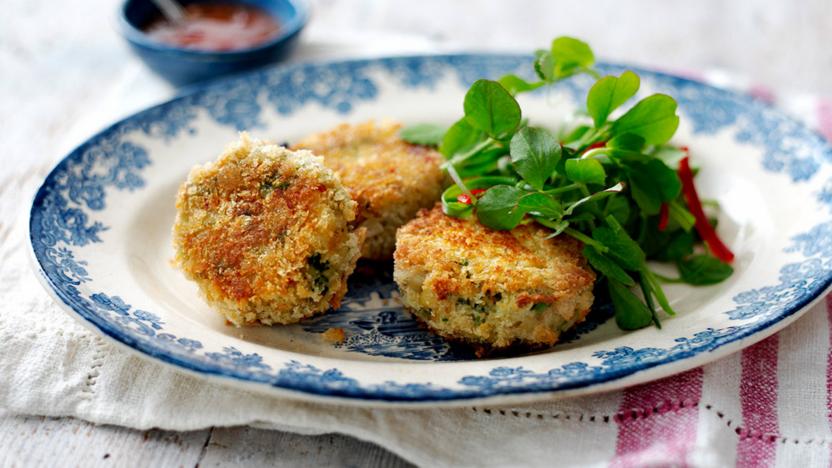 See more fish cakes recipes (45)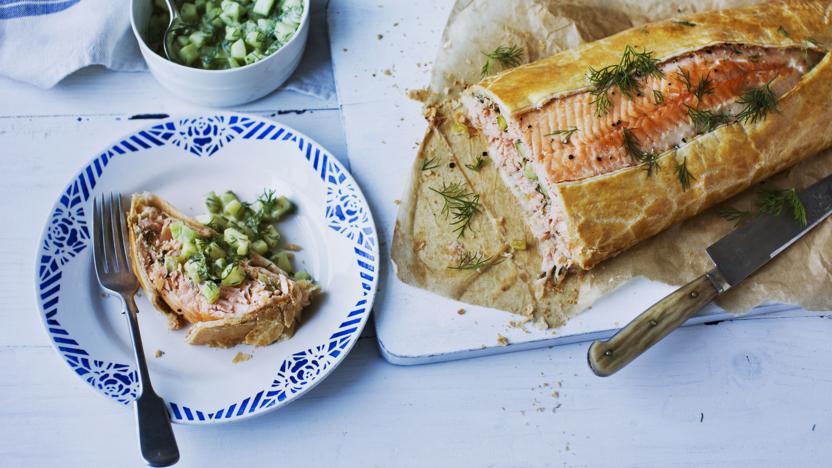 See more salmon recipes (275)