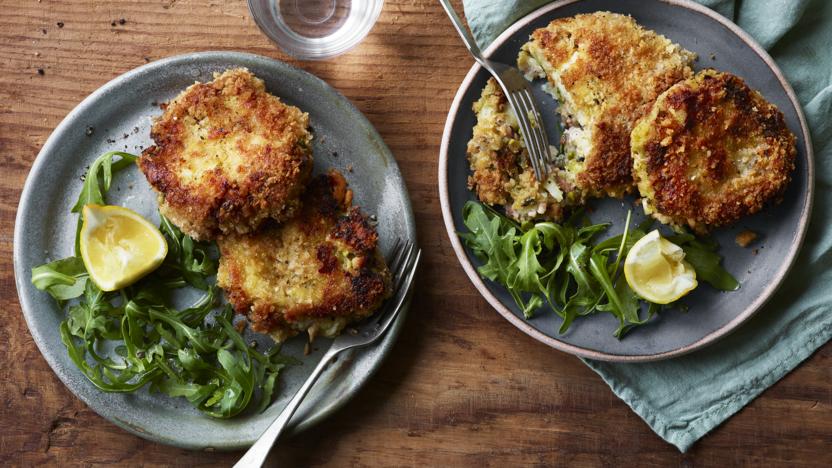 These tinned salmon fishcakes are perfect for a family-friendly dinner or summer lunch; you can make them up to a day ahead. Don't be tempted to use fresh salmon: tinned salmon blends better with the other ingredients and packs more of a flavour punch – this is almost a store-cupboard supper.

Each serving provides 665 kcal, 28g protein, 60g carbohydrates (of which 4g sugars), 34g fat (of which 6g saturates), 5g fibre and 1.1g salt.
Method
Bring a large saucepan of water to the boil, drop in the spuds and boil for 15–20 minutes, or until soft. When they're ready, throw in the peas, wait for 30 seconds, and then drain really well. Sit the colander over the pan (off the heat) so the vegetables can continue steam-drying while they cool.

Once cool, tip into a mixing bowl and mash really well, until there are no lumps left. Add the lemon zest, spring onions, mayonnaise, season with salt and pepper and mix thoroughly. Add the salmon and use a fork to fold through the potato mixture: you should still have some nice salmon chunks.

Flour your hands and shape the mixture into 8 patty-shaped fishcakes, no thicker than 2–2.5cm/¾–1in.

Spread the flour on a plate or tray and season with salt and pepper. Beat the egg with a fork on another plate or shallow bowl, and tip the breadcrumbs onto a third plate. Lightly coat each fishcake in flour, then shake off any excess flour and coat in the egg. Finally, cover in breadcrumbs. Place the fishcakes on a tray and chill for at least 20 minutes before cooking, or leave in the fridge for up to 24 hours.

To cook, heat a large frying pan, preferably non-stick, add some of the oil and butter and fry the fishcakes in batches, for 3–4 minutes on each side, or until golden and crispy. Keep the fried fishcakes warm in a low oven while you fry the rest. Serve with lemon wedges and salad or seasonal vegetables.