Salmon in Parma ham with celeriac chips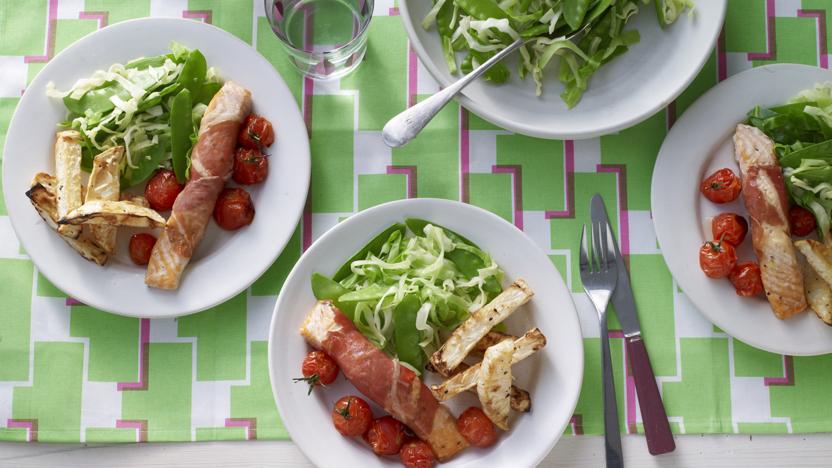 Preparation time
less than 30 mins
Cooking time
30 mins to 1 hour
Here's a delicious and easy way to make a good supper with salmon. Celeriac is a great swap for potato, with half the calories.

Each serving provides 400 kcal, 33g protein, 11g carbohydrates (of which 9g sugars), 22g fat (of which 4g saturates), 14g fibre and 1.1g salt. With a GI of 45 this meal is high protein, low GI.
Preparation time
less than 30 mins
Cooking time
30 mins to 1 hour
Method
Preheat the oven to 200C/180C Fan/Gas 6.

Put the celeriac chips on a very large baking tray, season with salt and pepper and toss in the oil. Roast for 20 minutes.

Sprinkle the lemon zest over the salmon, season with black pepper and squeeze over the lemon juice. Wrap each fillet in a piece of ham.

Add the fish and cherry tomatoes to the baking tray and bake for a further 10 minutes, or until cooked through.

Meanwhile, steam the mangetout and cabbage for 2–3 minutes, or until tender. (If you don't have a steamer, you can place the cabbage and mangetout in a large metal colander over a saucepan of boiling water, covering the vegetables with a lid.)

Serve the fish with the celeriac chips, mangetout, cabbage and roast tomatoes.
Related Recipes
See more Better for you carbs recipes (20)
See more salmon recipes (273)