Mary's perfect salmon en croûte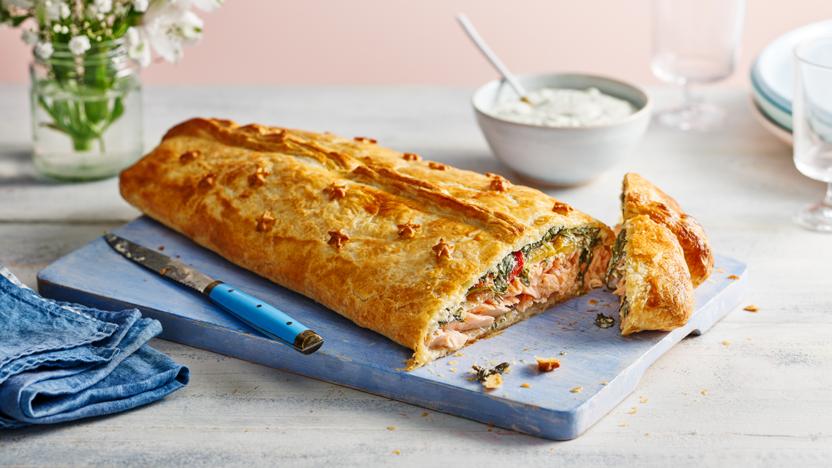 Mary shows you how to make the perfect salmon en croûte. It's a great choice for a buffet table or party when you have lots of mouths to feed.
Ingredients
For the spinach filling
For the salmon
For the herb sauce
Method
To make the spinach filling, tip the spinach into a heatproof bowl. Pour over boiling water from the kettle, stir to wilt and drain well. Squeeze excess water out of the spinach and set aside to cool. Add the cream cheese and egg yolk to the spinach, season with salt and pepper and mix to combine. Set aside.

To make the salmon, arrange the salmon fillet on a board, season with salt and pepper and cover with the dill. Lay the peppers over the top, then spread the spinach mixture over the top in an even layer. Break the egg into a bowl and add the milk and spare egg white from the filling. Whisk with a fork until smooth.

Cut two-thirds of the pastry from the block and freeze the small piece to use later. Roll the large piece of pastry out on a floured work surface so it is long enough and wide enough to wrap around the fillet. Transfer the pastry to a sheet of baking paper. Place the fillet in the centre of the pastry. Brush the pastry, all around the fillet, with the egg wash. Fold the pastry ends up and over the ends of the fillet and brush the pastry ends with the egg. Bring the sides of the pastry to meet at the top in the centre. Brush the egg on the ends of the pastry to seal and crimp the top edge. Chill in the fridge for at least 30 minutes.

Preheat the oven to 220C/200C Fan/Gas 7 with a baking tray inside.

Roll out the remaining pastry and cut out any shapes or letters. Stick to the top of the pastry and brush the egg wash over the top of the pastry. Transfer to the baking tray and bake for about 30–35 minutes, until the salmon is cooked through and the pastry is golden and cooked on top and underneath.

To make the sauce, place all of the ingredients in a bowl, season with salt and pepper and stir to combine.

Leave the salmon en croûte to rest for about 15 minutes before carving into thick slices. Serve with the herb sauce.
This recipe is from...
Recipes from this episode