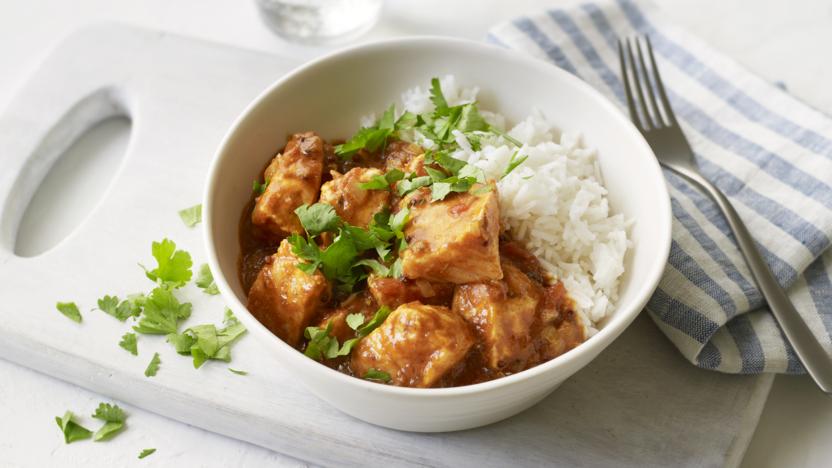 Satisfy your takeaway cravings at the same time as boosting your omega 3 intake with this simple salmon curry. Sarah likes to serve hers with chips for a treat but rice is easier for midweek meals.
Ingredients
For the curry
For the chips (optional)
Method
For the curry, heat the oil in a large saucepan over a medium heat. Add the onion and fry for 6–8 minutes, until softened. Add the chilli flakes, fenugreek seeds, star anise, cumin seeds, ground coriander, mustard seeds, fennel seeds, cardamom, turmeric and garam masala. Fry for 1–2 minutes, whilst stirring, until aromatic.

Stir in the garlic and ginger and fry for a minute. Add the sea salt. If the mixture is dry, add a splash of water so the spices do not stick to the pan and burn.

Add the tomatoes and coconut cream. Cook for around 10–15 minutes over a medium–low heat, stirring frequently. You will see the oil on the surface of the mixture changes colour when it is ready. Taste to check the seasoning and spice levels and adjust accordingly. Add the fish stock and continue to cook for a further 10 minutes, or until thickened.

Meanwhile, for the chips (if making), parboil the potatoes in a saucepan of boiling water for 6–8 minutes, or until the edges start to soften. Drain, then spread out on a baking tray lined with kitchen paper and allow to cool and dry out. Half-fill a large deep saucepan or deep-fat fryer with vegetable oil and heat to 180C. (CAUTION: hot oil can be dangerous. Do not leave unattended.) Carefully add the chips in batches and cook for 3–4 minutes, or until golden brown and tender. Remove using a slotted spoon and leave to drain on kitchen paper. Sprinkle with sea salt.

Finish the curry by gently placing the salmon in the tomato mixture and stir gently to coat in the sauce. Bring to the boil, cover with a lid and reduce the heat to a simmer. Cook for 4–5 minutes, being careful not to overcook the fish, then remove from the heat.

To serve, garnish the curry with the chopped coriander and serve with the chips (if making).
Recipe Tips
Coconut cream can be bought separately or taken from a tin of coconut milk that has separated (not all brands separate, some add stabilisers to prevent this).
This recipe is from...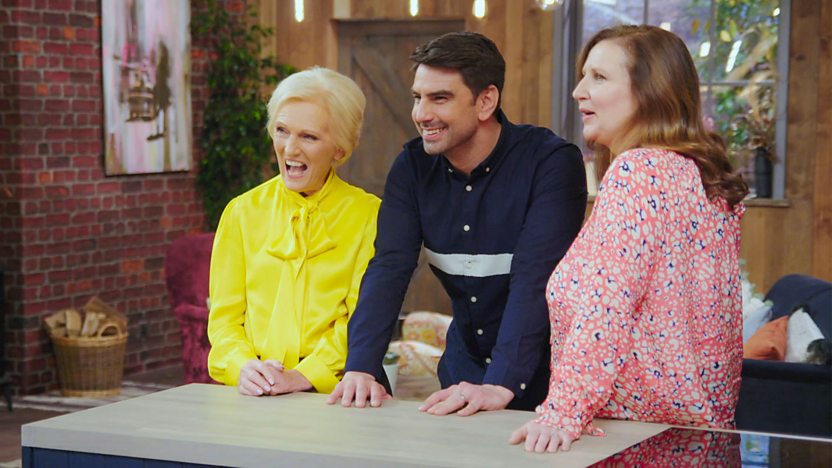 Best Home Cook
8. Episode 8