Salad verte with croûtons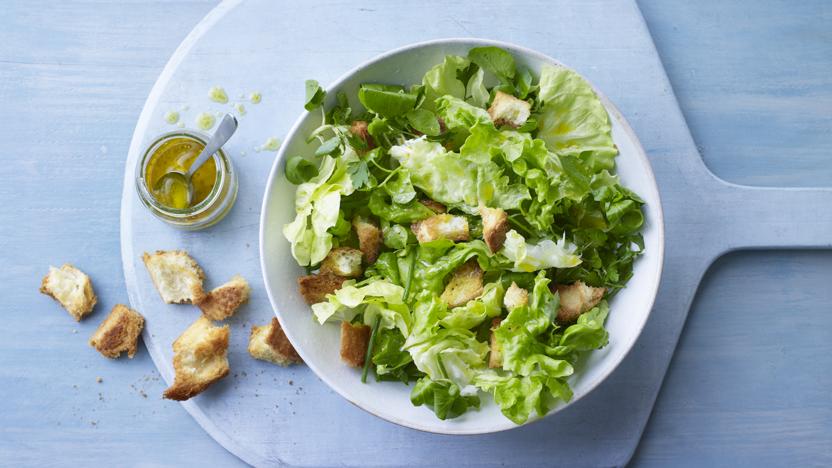 A fresh green salad with crunchy croûtons and a delicious dressing is perfect for barbecue sides (and practising French!). Once you've mastered this dressing, you can have fun creating your own salad combinations.

If you're making this recipe with children, see the tips section for advice on kitchen safety.
Ingredients
For the croûtons
For the vinaigrette
For the salad
2 lettuces (e.g. Romaine, Little Gem or butterhead), torn into small pieces
handful of salad leaves (e.g. watercress, rocket or baby spinach)
handful of soft fresh herbs (e.g. chervil, tarragon, parsley or chives), roughly chopped or torn
Method
Preheat the oven to 190C/170C Fan/Gas 5.

Put the bread on a baking tray and sprinkle with the dried herbs. Drizzle the oil over the bread and bake for 10 minutes, or until crunchy and golden-brown.

To make the vinaigrette, put all of the ingredients into a jam jar. Tightly screw the lid on and shake well until combined.

To make the salad, put all the ingredients in a large bowl. Top with the croûtons and drizzle over a little of the vinaigrette. Any remaining vinaigrette can be kept in the fridge for up to a week.
Recipe Tips
If making with children, always supervise small children when using the oven and sharp knives.
Make sure children always wear thick oven gloves when transferring food to and from the oven or let an adult to do this step.