Sage and onion tear and share bread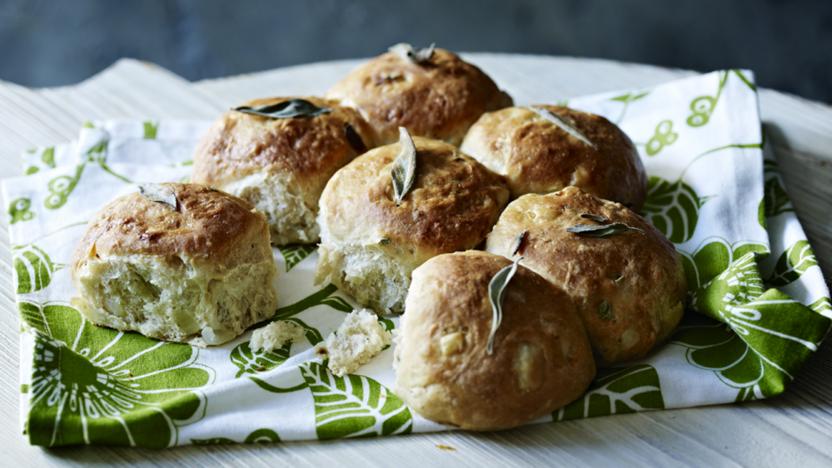 Tear and share these delicious sage and onion bread rolls - a perfect accompaniment to a warming soup.
Method
Heat 150ml/5fl oz water and the milk in a saucepan over a low heat until lukewarm.

Sift the flour into a large mixing bowl and stir in the yeast, sugar and salt.

Make a well in the centre and stir in the water and milk with a large wooden spoon. Gather into a ball then turn out onto a lightly floured surface and knead for 10 minutes.

Place the dough in an oiled bowl and cover loosely with oiled cling film. Leave to rise in a warm place for 45-60 minutes or until doubled in size.

Meanwhile, melt the butter and oil in a large non-stick frying pan and fry the onion and garlic over a very low heat for 10 minutes, or until softened.

Scatter the chopped sage over the onions and cook for a further 2-3 minutes. Remove from the heat, season with lots of freshly ground black pepper and set aside to cool.

When the dough has doubled in size, tip it back onto a floured surface and flatten with the palms of your hands. Spoon the onion mixture on top and knead for a couple of minutes until evenly incorporated. Sprinkle with a little extra flour if it becomes sticky.

Divide the dough into eight and shape into neat balls by pulling the dough from the outside of the ball and pushing into the centre. Turn over with the ends underneath. Place the rolls in a circle on a large baking tray lined with greaseproof paper, making sure the dough balls are touching. Cover loosely with oiled cling film and leave to prove in a warm place for 45 minutes, or until doubled in size.

Preheat the oven to 200C/180C (fan)/Gas 6.

Brush the top of each roll lightly with milk and place a small sage leaf on top. Brush with more milk and bake in the centre of the oven for 20 minutes, or until risen and golden-brown. Transfer to a wire rack and leave to cool a little before serving.
This recipe is from...
Recipes from this episode