Saas ni macchi (Parsee fish in white sauce)
Preparation time
less than 30 mins
Cooking time
10 to 30 mins
This is a spiced dish of fish cooked in a sweet and sour white sauce. Pomfret is the most popular fish for this dish in India, but you can use seabass or any white fish fillets. Serve with chapatis, poppadoms or khichri.


Preparation time
less than 30 mins
Cooking time
10 to 30 mins
Ingredients
3-4 tbsp rapeseed oil
4 small red onions, finely chopped
6 garlic cloves, crushed
7-10cm/3-4in of fresh ginger, peeled and finely chopped
1 seabass, filleted and pin boned, each fillet cut in half
15-20 curry leaves, finely shredded
6 free-range eggs
6 tbsp fine rice flour
6-8 tbsp sugar
6-8 tbsp malt vinegar
1 bunch fresh coriander leaves, finely chopped
20-25 mint leaves, finely shredded
4 tsp ground cumin
4-5 medium green chillies, finely chopped
few cherry tomatoes, halved
salt, to taste
Method
Preheat the oven to 230C/450F/Gas 8. Heat the oil in a casserole and gently cook the onions, garlic and ginger until soft.

Add the fish, the shredded curry leaves and 500ml/18fl oz water and bring to a simmer. Cook in oven for 5-6 minutes, or until the fish is just cooked through.

Remove the fish from the casserole, set it aside in a deep dish and keep it warm.

In a large bowl, beat the eggs along with the rice flour, sugar, vinegar, coriander and mint until the liquid is smooth.

Add the hot fish cooking liquor to the egg mixture first and then pour it back into the pan. Over a gentle heat, stir slowly but continuously until it thickens. Don't let it boil. Use a flat wooden spatula and a whisk alternatively to achieve this and to prevent the egg from splitting or scrambling.

Whisk in the ground cumin and, when it's well combined, add the chopped green chillies and tomatoes.

Check the seasoning and see that you are happy with the sweet, sour and slightly hot tastes.

Either add the fish into the sauce or the sauce to the fish and cover.

Ideally this should be served immediately with chapatis, poppadums or khichri.
Related Recipes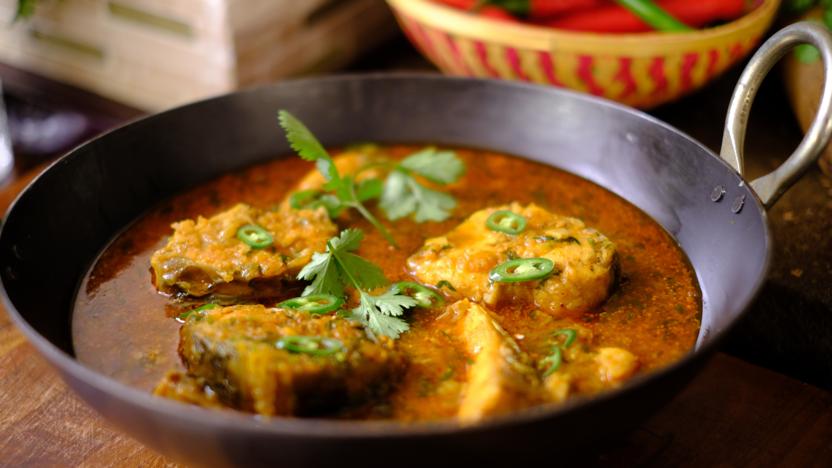 See more fish curry recipes (23)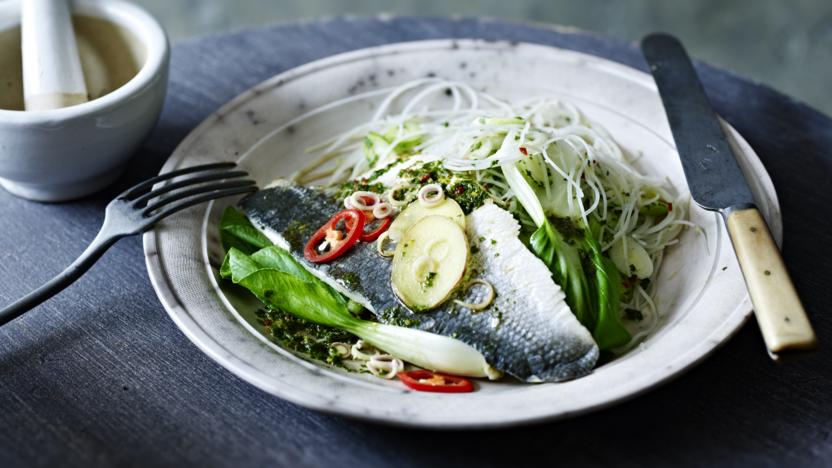 See more sea bass recipes (124)