Roquefort and walnut loaf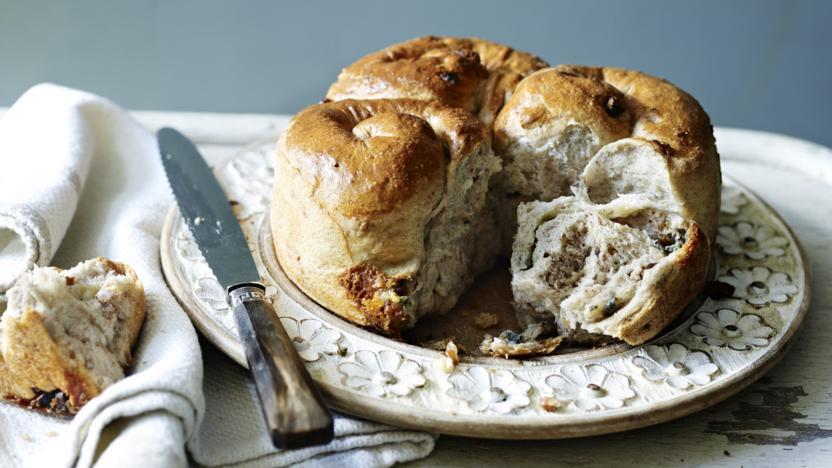 Preparation time
over 2 hours
Cooking time
30 mins to 1 hour
Try this cheesy loaf as an alternative to crackers with a cheese board, or, just as nice, smeared with butter.
Preparation time
over 2 hours
Cooking time
30 mins to 1 hour
Method
Mix the flours in a large bowl of a freestanding mixer and add the salt to one side of the bowl and the yeast to the other.

Add 250ml/9fl oz water and mix with the fingers of one hand. Add up to 100ml/3½fl oz more water, as required to form a soft dough; rye flour takes a lot of water so you should need most or all of it. Knead for 5-10 minutes on medium speed to a smooth dough. (You could also knead the bread by hand, but it may take a bit longer.)

Add the chopped walnuts to the dough and gently knead until they are incorporated. Place the dough in a lightly oiled bowl, cover with cling film and leave to rise for 1-2 hours, until at least doubled in size.

Turn the dough out onto a lightly floured work surface, knock it back, then divide into four equal pieces.

Flatten each piece of dough into a 15x8cm/6x3in rectangle. Place a quarter of the Roquefort along the long edge of one of the rectangles and roll up like a Swiss roll.

Using your hands, roll the dough into a 25cm/10in sausage shape. Repeat with the remaining dough.

Lightly oil a 20cm/8in springform cake tin. Carefully coil each sausage of dough into a spiral and place into the cake tin, when all four spirals are in the tin they should resemble a four-leaf clover. Cover with cling film and set aside to prove for a further hour.

Preheat the oven to 220C/200C(fan)/Gas 8.

Brush the top of the loaf with egg wash and bake in the oven for 45-50 minutes. Remove from the oven and leave to cool in the tin for 10 minutes, then turn out and transfer to a wire rack to cool completely.
Related Recipes
See more bread recipes (45)
See more walnut recipes (206)
This recipe is from...
Recipes from this episode