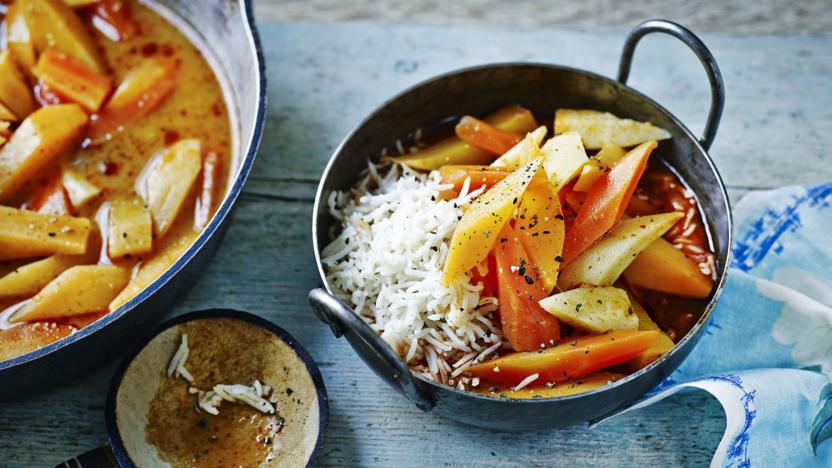 A cheap, vegetable Thai curry. The root veg have a sweet taste that benefits from a little spice. Make sure you're using vegetarian curry paste if cooking for veggies or vegans.

You can freeze the curry in portion-sized amounts, then defrost for a quick meal. (But don't freeze the rice - always cook it fresh.)
Method
Heat a large non-stick saucepan with a lid over a medium heat. Add the oil and curry paste and stir over the heat for two minutes until you can smell the flavours.

Mix in the chopped root vegetables and stir, coating the vegetables in the paste. Add a splash of water to help steam the vegetables and stop them from sticking. Place the lid on the saucepan and cook for 10 minutes, stirring every couple of minutes. Add a splash more water if needed to stop them sticking to the bottom of the pan.

Meanwhile, in a jug, mix the coconut and stock, stirring until dissolved.

Once the vegetables have cooked for 10 minutes, pour the stock and coconut mixture over the top and leave to simmer uncovered for 30 minutes, or until all the vegetables are soft and breaking up slightly and the sauce has thickened. If the sauce hasn't thickened enough to your liking, then turn up the heat and allow it to bubble away for a further 10 minutes, or until thickened. Add salt and pepper to taste.

Meanwhile, cook the rice in a separate saucepan according to the packet instructions. Serve the curry on top of the rice.
Recipe Tips
In May 2013 this recipe was costed at £2.79 at Asda, £2.79 at Tesco and £3.55 at Sainsbury's.
This recipe is designed to be made in conjunction with a