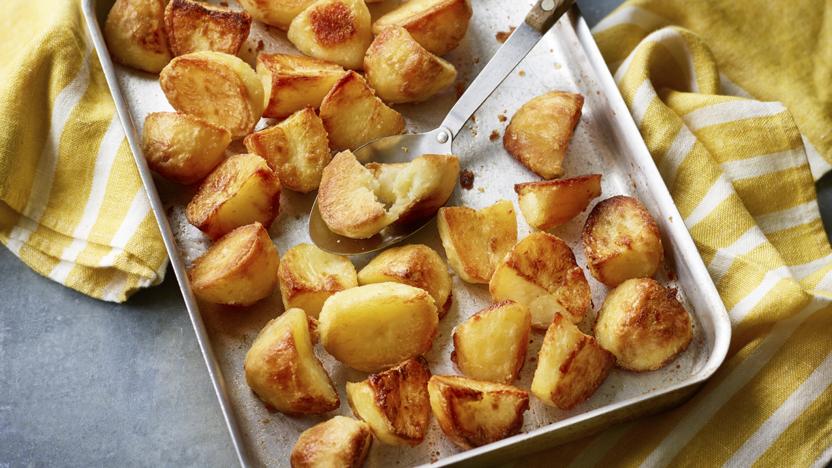 Fluffy inside, crunchy outside, these roast potatoes are a perfect sidekick to any roast dinner. (They're even better the next day, eaten straight from the fridge!)

Each serving provides 389 kcal, 7g protein, 65g carbohydrates (of which 3g sugars), 9.5g fat (of which 4g saturates), 7g fibre and 0.3g salt.
Method
Preheat the oven to 190C/170C Fan/Gas 5.

Parboil the potatoes in salted water for 7–8 minutes, or until almost cooked (they will still feel firm when pierced with a knife). Drain thoroughly using a colander, then shake the potatoes around a little in the colander until the outsides are roughened. Set aside, uncovered.

Put the duck fat into a roasting tin and heat in the oven for 5 minutes.

Add the drained, roughened potatoes to the tin of hot duck fat, then sprinkle over the garlic cloves, thyme and sea salt and mix until the potatoes are well coated in the fat. Return the tin to the oven and roast for 45–60 minutes, or until golden and crunchy.
Recipe Tips
You can make roast potatoes ahead and reheat them for a stress-free roast dinner. Parboil the potatoes as above, but allow the drained, bashed potatoes to cool slightly. Toss them in the duck fat so that the potatoes are as evenly coated as possible. Then spread them out on one or two trays so the potatoes are not touching each other. When completely cold, freeze the potatoes on their trays. (After they are frozen you can transfer them to a freezer bag.) Cook the frozen potatoes at the same temperature in a dry roasting tin, adding another 15 minutes to the cooking time.