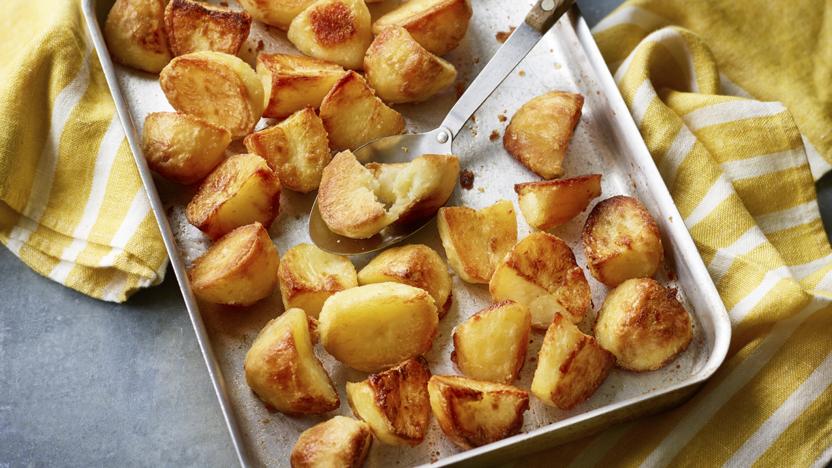 Fluffy inside, crunchy outside, these roast potatoes are a perfect sidekick to any roast dinner. (They're even better the next day, eaten straight from the fridge!)

Each serving provides 389 kcal, 7g protein, 65g carbohydrates (of which 3g sugars), 9.5g fat (of which 4g saturates), 7g fibre and 0.3g salt.
Method
Preheat the oven to 200C/180C Fan/Gas 6.

Put the potatoes into a pan and just cover with water. Add a tablespoon of salt, cover with a lid, and bring to the boil. Boil for 15 minutes, until cooked (they will slide off when pierced with a knife). Drain thoroughly in a colander, then set the colander on top of the cooking pan and cover the potatoes with a tea towel. Set aside for 10 minutes to steam dry.

Meanwhile, put the vegetable oil, dripping, or duck fat into a roasting tin and heat in the oven for 10 minutes.

Gently toss the potatoes around a little in the colander. Tip the potatoes into the tin of hot fat and give it a shake to spread the potatoes out in the pan, but don't worry about turning them. Put the tin into the oven and roast for 20 minutes. At this point give the potatoes a turn and then return them to the oven for a further 20-30 minutes or until golden and crunchy. Season the potatoes with salt and pepper and serve.
Recipe Tips
You can make roast potatoes ahead and reheat them for a stress-free roast dinner. Parboil the potatoes as above, but allow the drained, bashed potatoes to cool slightly. Toss them in the duck fat so that the potatoes are as evenly coated as possible. Then spread them out on one or two trays so the potatoes are not touching each other. When completely cold, freeze the potatoes on their trays. (After they are frozen you can transfer them to a freezer bag.) Cook the frozen potatoes at the same temperature in a dry roasting tin, adding another 15 minutes to the cooking time.