How to roast pork loin with crackling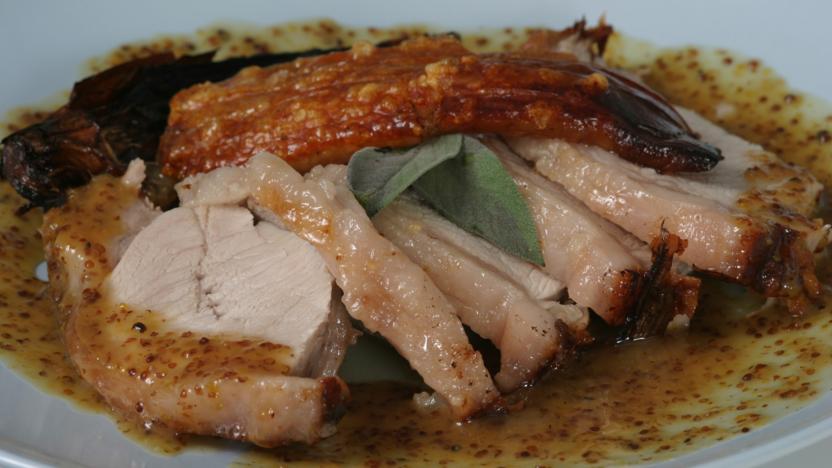 The combination of juicy sweet roast pork and tooth-shatteringly crisp crackling is a dream come true.
Ingredients
For the pork
For the cider sauce
To serve
fresh sage leaves (optional)
Method
Have the butcher French-trim the rib bones. Ask the butcher to score the skin in vertical stripes 1cm/½in apart. You can do this yourself with a very sharp knife.

Preheat the oven to 180C/350F/Gas 4.

Dry the pork thoroughly with kitchen towels and rub all over with salt.

Place the pork and any trimmings into a roasting tin.

Peel the shallots, cut them in half lengthways and add them to the tin. Pour 250ml/9fl oz dry cider into the tin.

Roast the pork for 45 minutes (allow an extra five minutes for every additional 250g/9oz of pork), checking occasionally that there's enough liquid in the roasting pan and topping up with a little hot water from the kettle if necessary

After 45 minutes (or relevant cooking time) increase the temperature to 200C/375F/Gas 5 to make the crackling crisp up. Cook the pork for another 45 minutes at this temperature (again allow an extra five minutes for every additional 250g/9oz of pork).

Meanwhile, make the sauce. Pour the cider and chicken stock together in a pan and bring to a simmer. Add the honey and mustard and season, to taste, with salt and freshly ground black pepper.

Simmer, to reduce, for about one hour. The sauce should reduce by three-quarters.

At the end of the cooking time, when the sauce has reduced, allow to cool slightly and add the double cream, if using. Stir thoroughly.

When the pork is cooked, remove it from the oven and allow it to rest for at least 15 minutes. Pour any juices from the pork into your sauce.

To serve, remove the crackling in one piece (if it's not crispy enough then return it to the oven for 5-10 minutes). Cut the loin off the bone in one piece. Carve the meat into thick slabs and serve a good piece of crackling and some shallot with each one. Pour over the sauce and garnish with fresh sage leaves.