Roasted tomato soup with double-baked cheese potatoes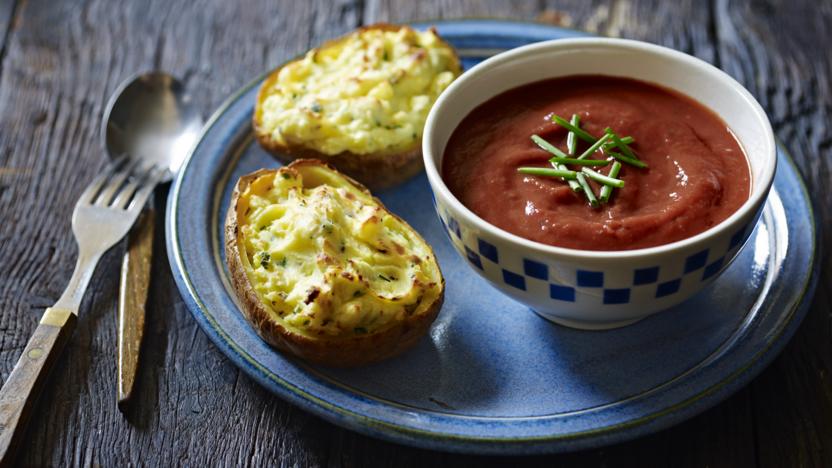 These crispy cheesy baked potatoes make a bowl of tomato soup seem special. Pick the sweetest ripe tomatoes for best results.
Ingredients
For the potatoes
For the soup
Method
Preheat the oven to 190C/170C Fan/Gas 5.

Bake the potatoes directly on the wire rack of the oven for 1½ -1¾hours, or until tender.

Meanwhile, for the soup, place the tomatoes, garlic, onions and thyme into a large roasting tin and season, to taste, with salt and freshly ground black pepper. Drizzle with the oil, and roast in the oven for 40-50 minutes. Remove from the oven and set aside to cool slightly.

Mash the garlic with the back of a fork, and discard the skin. Tip the roasted tomatoes and onions into a food processor along with the mashed garlic, and pulse until smooth.

If the soup is too thick, pour into a large saucepan and loosen the mixture with either vegetable stock, or single cream. Add a little Worcestershire sauce or balsamic vinegar, to season, if you like.

Remove the potatoes from the oven and using a cloth to hold the hot potato, cut each one in half and scoop out the insides into a bowl.

Mix in the butter, crème fraîche, chives and goats' cheese, and stir in the egg.

Season, to taste, with salt and freshly ground black pepper, and spoon the potato mixture back into the skins. Place onto a baking tray in the oven for a further 15-20 minutes, or until golden-brown and crisp on top.

To serve, reheat the soup and divide among four bowls, with two potato halves each on the side.