Roasted vegetable and goats' cheese tart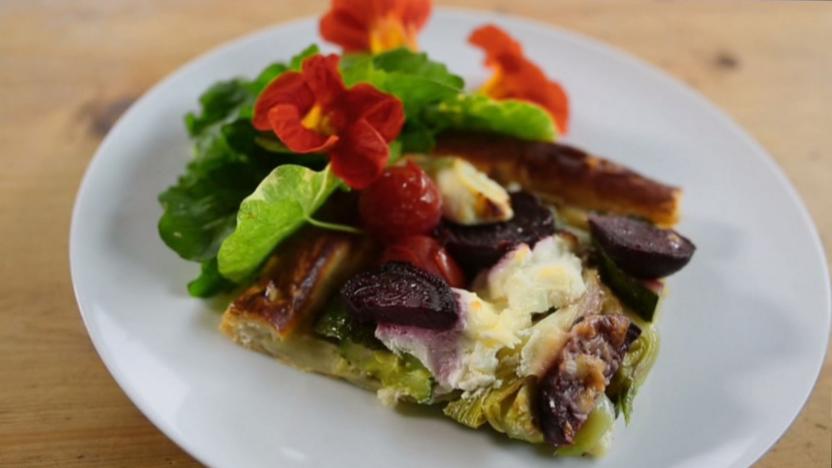 This easy puff-pastry tart can take any seasonal vegetables you throw at it and works perfectly as a quick supper.
Ingredients
For the salt-roasted beetroot
500g/1lb 2oz table salt
4 small fresh beetroot, trimmed but not peeled
For the tart
Method
For the salt-roasted beetroot, preheat the oven to 180C/350F/Gas 4.

Pour the salt into a large mixing bowl and stir in the egg whites, a little at a time, until the mixture takes on a thick, cement-like consistency that is firm enough to roll into a ball that will hold its shape (you may not need to use all the egg whites). Set aside any remaining egg whites to use for the egg wash on the pastry.

Spread the egg white and salt mixture all over the beetroot until completely covered. Place the coated beetroot onto a baking tray and bake in the oven for one hour.

When the beetroot has cooked, bash the salt crust with the edge of a spoon until it falls away, then peel and slice the beetroot. Set aside.

Put the courgette, fennel and garlic cloves into a roasting tray and drizzle over the olive oil, then mix to coat all the vegetables in the oil. Add the sprigs of thyme and roast in the oven for 15-20 minutes, or until the vegetables are just starting to go tender. Set aside to cool slightly (discard the thyme stalks and pop the garlic out of its skin).

Increase the oven temperature to 200C/400F/Gas 6.

Beat the egg yolk in a bowl with any remaining egg whites. Lay the ready-rolled sheet of puff pastry onto a lightly floured baking tray and brush the edge with a thick border of beaten egg.

Scatter the roasted vegetables, beetroot and cherry tomatoes inside the egg-wash border and crumble over the goats' cheese.

Drizzle the tart with a little more olive oil and season, to taste, with salt and freshly ground black pepper.

Bake the tart in the oven for about 20 minutes, or until the pastry is crisp and golden-brown. Serve immediately.
Recipe Tips
If you don't have time to salt-roast the beetroot, peel it, chop it and throw it into the roasting tray with the other vegetables.