Roast vegetable bastilla with root vegetable salad
Sabrina Ghayour swaps chicken for roasted vegetables in this spiced vegetarian filo pie that makes a stunning centrepiece.

Ingredients
For the bastilla
For the dressing
For the salad
Method
To make the roast vegetable bastilla, preheat the oven to 220C/200C Fan/Gas Mark 7. Line two large baking trays with baking paper.

Mix all the cayenne, cinnamon, turmeric, cumin and garlic granules together in a bowl. Put the vegetables into a large bowl. Sprinkle over the spice blend, drizzle with the olive oil and season generously with salt and pepper. Use your hands to mix until the vegetables are well coated. Divide the mixture between the two trays and roast for about 45 minutes, opening the oven door halfway through the cooking time to allow the steam to escape. Once the edges of the vegetables start to brown, remove the trays from the oven and allow the vegetables to cool (or you can refrigerate the vegetables to use later).

Roughly chop the cooled root vegetables and put them in a large bowl with the nuts, apricots, parsley, honey and lemon zest and juice. Add a generous extra seasoning of salt and mix well using a large spoon, ensuring you do not mash the vegetables too much.

Preheat the oven again to 220C/200C Fan/Gas Mark 7. Line a large baking tray with baking paper.

Line a 26cm/10½in in diameter frying pan with a pastry sheet, leaving the end overhanging (there should be plenty of overhang to be able to fold this over the top of the filling). Lay the remaining pastry sheets on top, placing each at an angle in a clockwise direction. Tip the filling into the centre and flatten it out to make a firm disc. Fold the overhanging pastry over the filling and brush the pastry with the melted butter to seal the pastry together. Place the baking tray upside-down over the pan and invert the bastilla onto the tray. Brush the top of the pastry with the beaten egg. Bake for 25–30 minutes, or until golden brown.

To make the dressing, mix all of the ingredients together in a small bowl and season with salt and pepper.

To make the salad, put the cabbage, cranberries, spring onion, cashews and the dressing into a large mixing bowl and mix well with your hands. Add the parsnip, carrot and celeriac ribbons and mix again. Now add the herbs and pomegranate seeds and toss through. Check the seasoning and adjust if necessary, then toss one last time and serve immediately with slices of the bastilla.
This recipe is from...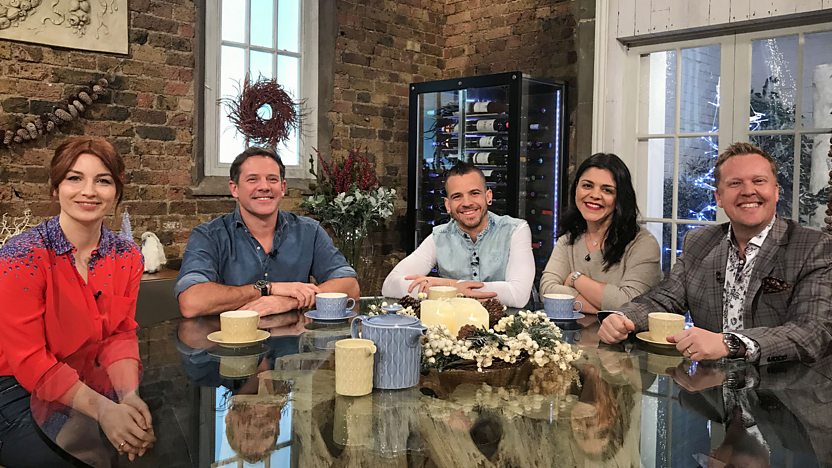 Saturday Kitchen
14/12/2019